Advertise with CoolAvenues
Contents:
About CoolAvenues: 
 
Advertising Options
1 Banner Advertising
2 E-mail campaign
1- Banner Advertising: Can be CPM based or Fixed Banners
 Size Options available are :
i)468 x 60 pixel 
ii) 160 x 600 pixel
iii)300 x 250 pixel
iv) 300 x 100 pixel
v)  253 x 60 pixel
 
Customized solutions, i.e., Pop up/Floating pop
2- E-mail Campaign
 Around 55,000 MBA (alumni/students/aspirants) database.
 Delivers specific communication to the intended target.
 Cost a fraction compared to the conventional direct mailer.
 Can be targeted to specific professionals, like HR/Finance/Marketing professionals, etc.
 Ideal for test-marketing/product-launch or focused-marketing.
3- Banner slots on Home page (Click on image to see the full slots)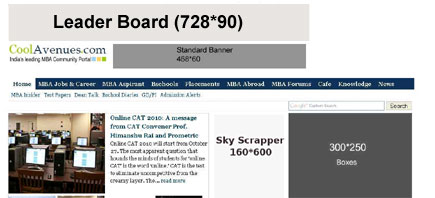 4- Banner Slots on CoolAvenues.com Forum (Click on image to see the full slots)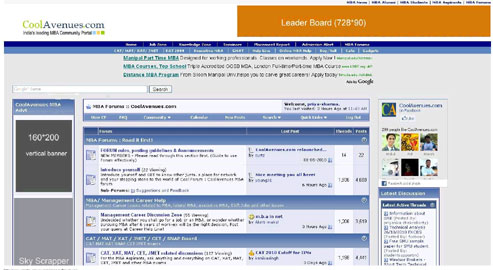 Contact Details for Advertising: 
Phone : 0120 - 4355 686
Mobile: 09312749408
Email : [email protected], [email protected]