BITS Pilani organises Junoon - Sports extravaganza for specially abled children
| September 04,2012 10:00 am IST
Junoon, a one day regional sports event for the specially abled children was organized by the NSS and Sports Council of BITS Pilani on Sunday, 2nd September 2012. About 110 specially abled children from Delhi, Jaipur and other towns of Rajasthan participated in the event.
Participants included both boys and girls and they were of the age 8 - 22 years.
Events included were : 50 and 100 mtrs running race, Shot put, Basket ball, Softball throwing, Boccee and Badminton.They were conducted in the BITS playground and the indoors at Students Activities Center, BITS.

Besides sports events, there was an entertainment program in the evening in which the special children danced to the tunes of bollywood hits.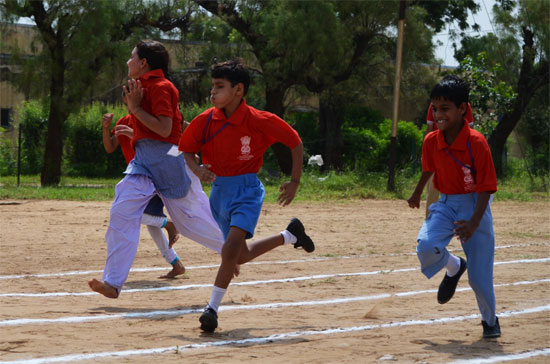 Vice Chancellor Prof B. N. Jain, Mrs Jain, Director Prof G. Raghurama, Prof. ( Mrs) Geeta B., Deputy Director Prof R. N. Saha and a large number of faculty and students watched the games in the evening. At the end of the program, prizes and certificates were distributed to the prize winners by the dignitaries. Besides, all the NGOs were felicitated and all the participants were presented mementoes.

Visit of the specially abled children was coordinated by the following NGOs : Amla Birla Kendra (Pilani), Uman (Jaipur), Muskan (Delhi), Asha Ki Jharna (Jhunjhunu) and Akshay Pratishthan (Chirawa).
In the morning, Prof R. N. Saha, Deputy Director was the Chief Guest and Mrs Madhu Jain was the Guest of Honor for the inauguration of the event.

There was very enthusiastic participation by the children from the very beginning. Clouds and intermittent drzzles brought down the temperature and brightened the mood of the participants. Large number of BITS students cheered up the participants.

Speaking about the idea behind the event for the specially abled persons, NSS Unit President of BITS, Mr Prateik Kumar said that BITS has been encouraging sports and has been conducting BOSM, the annual sports event, since several decades. Junoon is a new attempt to provide a platform for motivated, specially abled children, the tagline being, One world, one dream.

Participants were enthusiastic from the very beginning. The monsoon clouds and intermittent drizzles, made the weather better and encouraged the participants instead of dampening the mood.
The NSS would conduct the event still better and on a larger scale next year, Mr Kumar added.
Speaking on behalf of the NGOs, Ms Abha Karn of Muskan, Delhi, thanked the NSS Unit and Sports Council of BITS. She appreciated the excellent way the specially abled children were looked after by the organizers.
Concluded.
.