Business World B-School Ranking 2012: IIM A, C takes top spots; JBIMS, GLIM, IIM Shillong missing from top 20
| June 21,2012 04:40 pm IST
The Indian Institutes of Management (Ahmedabad and Calcutta) took the top spots in Business World Indias Best B-School Survey 2012. The magazine ranked 55 b-schools in India on the basis of Infrastructure and living experience, intellectual capital, placements, industry interface and pedagogy.
The top gainers this year include S P Jain Institute of Management & Research (SPJIMR), Mumbai, which has jumped from 12th position in 2011 to 4th this year. Faculty of Management Studies (FMS), Delhi which was on 16th position last year jumped to number 5 this year. IMT, Ghaziabad gained 4 places from 13th last year to 9th this year.
B-schools to loose this year include NMIMS, Mumbai which slashed from 4th position last year to 7th this year. Other b-schools that came down the ranking ladder are IIM Indore, SJMSoM IIT Mumbai, KJ Somaiya Mumbai and DMS IIT Delhi.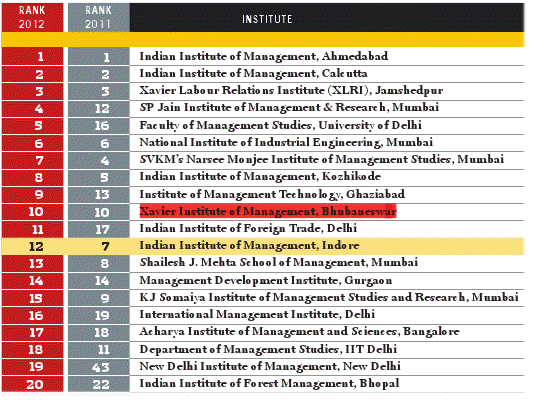 B-Schools that have sprung in as a surprise to be included in top 20 are New Delhi Institute of Management, New Delhi and Indian Institute of Forest Management, Bhopal.
Another shocking surprise that came as a part of the ranking is JBIMS, Mumbai, Great Lakes Institute of Management, Chennai and IIM Shillong placed at number 21, 22 and 23 respectively.
IIM Lucknow and other new IIMs are completely missing from the survey. However, IIM Bangalore could not be included as data for some of the parameters was not available.
Concluded.
.