Economic Times B-School Ranking 2011 | IIM Calcutta ranked below SIBM
| April 18,2011 06:08 pm IST
The latest Economic Times India Inc's Preferred B-Schools ranking has sparked a lot of confrontation within the MBA fraternity. According to the latest ranking published by ET April 14, Indian Institute of Management Ahmedabad is the top choice of recruiters followed by XLRI Jamshedpur.
You must be wondering what the confrontation all about is! Well, very surprisingly SIBM Pune is placed at number four leaving IIM Calcutta one notch behind at number five. Now this is really unprecedented and may be unacceptable for a lot many people. IIM Calcutta, the 50 year old b-school, the oldest among IIMs and the second oldest in the country after XLRI, is left behind by about 17 year younger institute.
Not only this, there are many more surprises with 6 privately owned institutes in the top ten list, IIM Lucknow placed at number 8 after NMIMS Mumbai and IMT Ghaziabad, Amity is placed before FMS and IIM Indore and NITIE Mumbai, which saw participation of 82 recruiters in placements 2011 is placed at number 24.
Apart from the flawed rankings there were even some factual errors. In one of the ranking articles—'ET Business school ranking: IIM-Ahmedabad leads listing as top choice of recruiters.' According to the story, IIM Ahmedabad is a 47 year old institute, however, IIM-A is celebrating its golden jubilee this year. At another place, it is said that "IIM-Calcutta, the 44-year-old institute set up in league with the Sloan School of Management...," which is again incorrect. IIM Calcutta is the oldest among IIMs and is also celebrating its golden jubilee this year.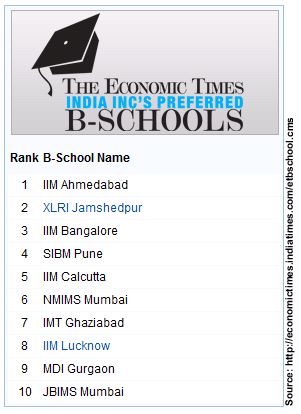 Methodology:
The Economic Times commissioned IMRB to do the ranking b-schools based surveying recruiters from India's leading companies on the basis of turnover. The top ET 500 companies were surveyed by IMRB. Respondents from each of the business functions: Marketing, Finance, production, IT and, HR were selected and surveyed. The respondents were actively involved in recruiting management graduates from b-schools in the last two years, for their own functional area.
The survey covered companies headquartered in Mumbai, Delhi, Bangalore, Kolkata, Pune and Hyderabad. According to a user comment on an undisclosed portal, the methodology ET has adopted is flawed, he says, "Companies based in Mumbai hire extensively from the likes of Welingkar and NMIMS. Similarly, Delhi companies from the likes of Amity. Therefore a majority of the managers are from there... Do they vote truthfully or just blindly vote for their own college? Does this explain the presence of such colleges in the top?"
Do you agree with him? Tell us what you feel about B-School Rankings and the methodologies adopted by agencies.
Do you think there is a need of universal methodology for b-school ranking?
.