Entrepreneurial extravaganza at SPJIMR as Lock, Stock & Trade completes 10 years!
| February 04,2013 12:05 pm IST
Lock, Stock & Trade, a simulated IPO game wherein investors bid for mock shares of actual start ups, was held last Sunday, January 27th, at SPJIMR.
In its 10th year now, LST is a well recognized event in entrepreneurial circles. LST 2013 saw participation from venture capitalists, people from the industry and students from various institutes as investors and 15 start ups from across the country.
The keynote speaker for the event was Mr. Dheeraj Gupta, founder of Jumbo King, the well known chain of hygienic Vada Pav stores in Mumbai. He began his speech by narrating the story behind creating a brand out of Mumbai's favourite poor man's food. After his management degree in 1998 from SIBM, he was considering a venture of exporting packaged Indian sweets when he came across 'Behind the Golden Arches', a widely acclaimed book about the growth story of McDonald's and how Ray Kroc, its founder, expanded the franchise model to create the hugely successful fast food chain. He was tremendously inspired by it and Vada Pav became his obvious choice for extending the model here in Mumbai as the fast moving Mumbaites love it. He stressed the importance of compounding and said that often people tend to lose the plot while trying to achieve exceptional growth; however, a steady growth is beneficial in the long run. The audience was impressed with his witty answers and quick thinking while he took questions from the crowd.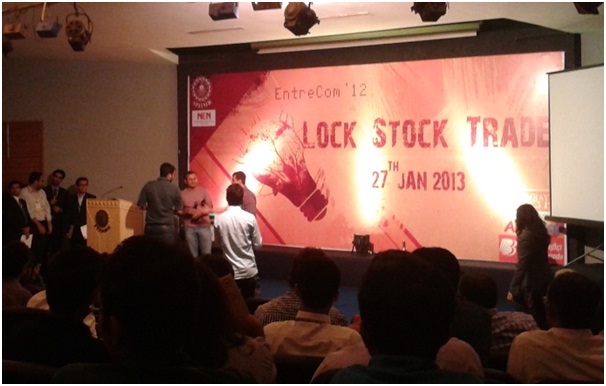 15 start-ups presented their business ideas to an esteemed jury comprising of eight members, most of who are keen followers of the start up activity in India and have a rich experience across various verticals like Investment Banking, Emerging Markets, BFSI, Capital Markets, Consulting, Retail, ITES & Social Venture Capital funds. The event was a one stop platform for the young start ups to pitch in their business models to these VCs who have founded or are associated with entrepreneurship enabling communities & mentoring organisations like Headstart Network Foundation, IndiaSocial Fund, Startup Partnerz and NEN.
Jurors loved most of the ventures and it was a very tough competition among the participating teams. Some of the ventures which stood out were Traffline, a real time traffic monitoring system that addresses a common man's biggest woe in a metro city, the traffic, Liqvid, a Noida based e-learning content development company, AdoRoI, a leading marketing science company providing TRAI DND compliant Lead Generation service to marketers for measuring marketing ROI and LocalBanya.com, a Mumbai based online grocery portal which supplies any supermarket product at the convenience of home.
200 investors, a mix of corporate and students, attended the presentations and made bids for mock shares of these firms. Astute investments by Bidhan Kumar Pradhan of SPJIMR made him the most profitable investor with the highest portfolio and LocalBanya.com bagged the award for highest Market Capitalization.
The event was organised by the Entrepreneurship Committee, 2012 in association with NEN (National Entrepreneurship Network). The committee, which is an integral part of ADMAP Programme at SPJIMR helps foster a culture of innovation and entrepreneurship in the campus by hosting a plethora of stimulating events.
.