FMS Conclave 2011: An attempt to determine the Growth drivers on the superpower road
| September 06,2011 11:15 am IST
Faculty of Management Studies, University of Delhi (FMS) organized its annual conclave at Welcomgroup Hotel Shereton, New Delhi on September 3rd and 4th, 2011. The gathering concluded with an exhilarating debate amongst industry's who's who attempting to map out the road for India to become a superpower.

With western hemisphere still struggling to get past the recession kicked in by the Global Melt down in 2008, the world is now looking at countries like India, China, Brazil and Indonesia to become the epicentre of the economic activity. In such an ecosystem, the stalwarts of the industry shared a stage with reputed academicians in order to decipher the true meaning of the word 'superpower' and the impediments to achieve it in Indian case.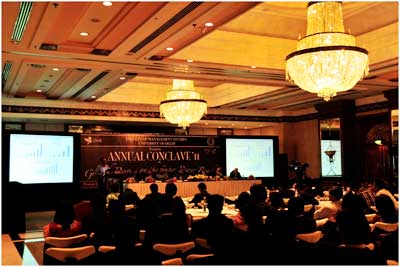 Day 1:
Finance Conclave - Carpe Diem - Moving Financial Tectonics: Survival of the Smartest
The world is gripping under uncertainties as the once proclaimed superpower struggles to retain its throne. As the questions of survival have again started arising, the focus shifts on the definition of the growth drivers that are vital to conquer the "superpower" throne. Through this conclave, we aim to help students understand the factors - opportunities, challenges and strengths which will help India become a worthy claimant to the throne and eventually conquer it.

Speakers:
1. Mr. Viren Mahurkar, Head, Strategic Advisory and Capital Markets, ICICI Securities (Keynote Speaker)
2. Mr. Manoj Bhalla, Treasurer, GE Capital
3. Mr. Subhashis Nath, Senior Partner, Axis Risk Consulting
4. Mr. Amit Agarwala, Head - Corporate and Institutional banking - China Trust bank
5. Mr. Mukesh Chawla, MD, Blue River Capital Advisory
6. Mr. Nitin Dembla, MD, Global Banking Head - North India, Citibank N.A.
Marketing Conclave - Glocalizing - the Indian Way: A Marketing Challenge
The topic deals with how global brands have been marketed or distributed in India, how the brand proposition has been tweaked or how the sales channels have been developed so as to adapt in the Indian context.

Speakers:
1. Dr. Harshvardhan Verma, Professor, Faculty of Management Studies (Keynote Speaker)
2. Geetu Verma, Vice President & Chief Marketing Officer, PepsiCo
3. Laxmi Kant Gupta, CMO, LG Electronics
4. Sandeep Tarkas, President - Customer Strategy, Future Group
5. Himanshu Khanna, Director, Wrigleys
6. Subodh Marwah, Marketing Director, Carlsberg
Social Entrepreneurship Conclave - Unleashing Entrepreneurship: Making Business Work for the Poor
How can Social Entrepreneurship serve the Bottom of the Pyramid?
- Mrs. Anu Lall, Director, Special Initiatives, Delhi Management Association; Director, Snartak Solutions
New Age CSR: Shift from philanthropic or charitable models (Schools, Hospitals etc) to strategic social investments with short, medium and long targets
- Mr. Pramod Joshi, Adviser (Higher Education), Shiv Nadar Foundation; Director, Ecollabs Infomix Ltd;
Micro Entrepreneurship and Social Change
- Dr. Kuriakose Mamkoottam, Professor & Dean, School of Business, Public Policy & Social Entrepreneurship, Ambedkar University, Delhi
Day 2:
Consulting Conclave - The Roadmap to excellence: A Consultant's Perspective
As India is poised to enter the domain occupied by the Major Superpowers, it must bank upon its resources to come up to that level. In the same process, there shall be certain structural roadblocks that it shall face. What shall be the policy measures and what are the opportunities and threats that India shall face, this decision will be one of the most important decisions for the country going into the next 2 decades.

Speakers
1. Dr. R. S. Dhankar, Dean and Professor, Faculty of Management Studies (Keynote Speaker)
2. Dr. Sunil Abrol, President, Institute of Consultancy and Productivity Research
3. Mr. Sudripto De, Principal, Infosys Management Consulting
4. Mr. Anand Rohatgi, SVP & Director, Synergy Consulting

Systems and IT Conclave - Growth Drivers on the Superpower Road: Role of IT and Operations
Evolving Business Models and need for innovation in current competitive scenario and role of IT/Supply Chain as a Growth Enabler for Emerging Economies to become a Superpower

Speakers:
1. Mrs. Neena Pahuja, CIO Max Healthcare
2. Atul Konwar, President, Mahindra Satyam
3. Kulbhushan Chand, Director- Partner Solution Center, Oracle
4. VKM Reddy, Director-SCM , Vodafone
5. Ramesh Kumar S, Supplly Chain Practice Lead, Bristlecone
6. D. Reveendran, Group General Manager, Head ICE, ONGC
7. Daman Sood, CIO and Head- Green IT Practice at Continuity and Resilience

HR Conclave - Harnessing the power of youth to drive business ahead: India's Human Resource assets
In the present age, businesses across the world are focusing on the developing nations for their growth. In turn, the developing nations are witnessing immense growth in the form of huge inflow of foreign investments. A typical feature of these nations is that they have a huge base of young workforce. Many MNCs are realizing the need to tap in the advantage and reap the demographic dividends. But along with it comes multiple challenges in managing this unique workforce. The panel seeks to answer and discuss the key issues on how organizations across the globe are harnessing the power of 'youth' to drive their businesses ahead.
Speakers:
1. Dr. Venkat Raman, Professor of HR and OB, FMS Delhi
2. Joyce Wicherts, HR Director, Philips
3. Rajiv Sahdev, VP HR, Moser Baer
4. Alka Mittal, DGM, HR, ONGC
5. Sumeet Mayor, Director, Linkage Inc.
.