FMS, Delhi organises 'Silent Auction' for a social cause
| August 27,2012 11:39 am IST
We make a living by what we get; we make a life by what we give. These words by Sir Winston Churchill got truly reflected in the Silent Auctions held at FMS, Delhi.
Several unique and interesting items were put up on bid the sales proceeds of which would go towards a social cause. The bids included items as unique as Dating Tips, Camel rides, Poker Tutorials, Midnight Bike Trips, Home Cooked Food, Rubic Cube Workshop etc.

Silent Auction is not just another auction where hammers are pounded and bids are screamed. It is the annual flagship event of Vihaan, The Social Service Cell at FMS, Delhi and sees the students and faculties from the institute inviting bids for their items. Over the last 5 years, the auction has been generating funds for social causes and this year the activities planned from the earnings include donation funds to NGOs, Cleanliness drive, Tree Plantation Drive etc. This year, the auction earned Rs. 1.68 lakhs as compared to the Rs. 1.46 lakhs last year. There were around 856 bids placed for the 221 items placed.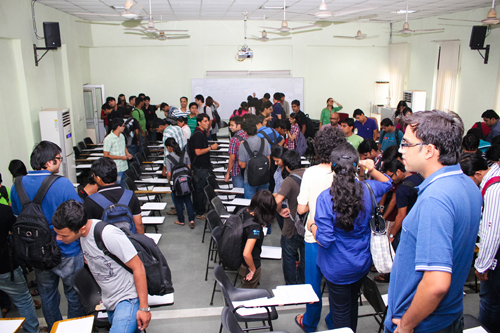 For the new batch, it was an entirely new experience and they were all astounded by the basic concept of the event. The single item that raised the highest amount this year was a Customized Painting by a 1st year student, which earned Rs. 5000. The most popular bid though was the Vihaan T-shirt which attracted as many as 140 bidders. Another unique thing about it was that design of the T-shirt was crowdsourced through a competition floated by Vihaan earlier this month. A mimicry show by a 2nd year student was the next popular item just like last year.

As every year, there were a lot of items offering homemade food as well as achaar. Those bids saw outstation students competing for them by simply raising the value of their bid. Home food is of course something which never ceases to appeal to one and all. Gujju food, Hyderabadi Biryani, Bong food, Yummy Andhra food, Laddoos, Gajar ka Halwa you name it and it was there to bid for !

Dating Tips for 2000 bucks was one interesting item placed for all those guys who find it difficult to approach the fairer sex. Other bids included, Marketing Gyaan, Yoga classes, Martial Arts, Driving lessons, Old books, Self portraits, TV serials. Someone even offered washing clothes for the bidder. Around 25-30 items promised Finance sessions which was not so unexpected in one of the top B-Schools of India.

The auction not only showcased the creativity of the students but also established the fact they are as much socially responsible and care towards the well being of the underprivileged and the poor.
Concluded.
.