FMS, Delhi proudly held its Flagship event Silent Auction
| August 19,2010 06:28 pm IST
Vihaan, the social service cell at Faculty of Management Studies (FMS), Delhi proudly held its Flagship event 'Silent Auction' today. Silent Auction is a legacy event that has received much appreciation and attention over the years.
It is an attempt by the students of FMS Delhi, the budding managers and leaders of tomorrow, to contribute to society.
An auction with a difference, 'Silent Auction' is an annual event and the proceeds from the auction are donated to NGOs so that a positive impact can be made on society. Over the years the money has been used for causes as meaningful as sponsoring operations of children to enable them to see again. This year the money from the auction will be used for a number of causes namely, association with Samman Foundation in running few rickshaws, career Counseling session in Rural/Slum areas, red light area health checkup camp, sponsoring poor kids and 1 old woman and donation to NGOs such as Oaxfame, Smile Foundation, CRY.

The auction items are as wide and diverse as Finance classes by toppers, ppt making sessions, dance and drama classes, bike rides and even authentic food up for sale for the food enthusiasts. True to its unique tradition, the annual "silent auction" by students of the university's flagship MBA program, was an enthusiastic affair with almost 250 students of the MBA, full time program participating and bidding for items. Finance Sessions by toppers and Excel session have fetched the highest amount this year, almost Rs. 3000. The Social Service cell hopes to raise at least Rs 1,20,000 this year through the auctions.
Enthusiastic response of the students of FMS, Delhi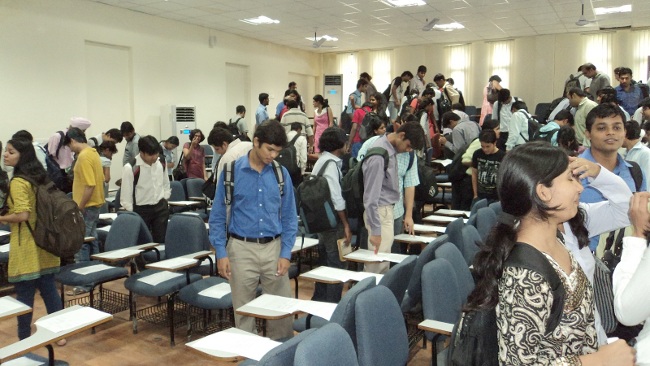 "This was an opportunity for us make a difference and the positive response by the students of FMS has indeed shown that we can make a positive difference to society" said Daya Shanker Meena, President of the social service cell at FMS, Delhi.
Concluded.
.