FT Global MBA Rankings 2012: IIM A holds to number 11, ISB slashes 7 places
| February 01,2012 05:10 pm IST
Financial Times (FT) recently released Global MBA Rankings 2012. Indian Institute of Management Ahmedabad, which was first time ranked in FT Global MBA Ranking 2011, did not changed it position and remained at number 11 this year too.
Another eminent college from Asia-Pacific region, Indian School of Business (ISB) Hyderabad, has descended on the FT Ranking ladder to come down to number 20 from number 13 last year.
As per the survey data, weighted salary of IIM Ahmedabad has increased by US$ 636 this year, while that of ISB Hyderabad has decreased by US$ 4,894. Placement success rank given to ISB is 41 while IIM A has got 17. Placement Success Rank is the rank given by alumni who used the careers services at their business school. They were asked to rank its effectiveness in their job search. This figure includes data for the current year and the one or two preceding years where available.
Stanford Graduate School of Business, California ruled the chart shifting from number 4 position last year to number 1 this time. Harvard Business School, University of Pennsylvania-Wharton, and London Business School occupied number 2, 3 and 4 respectively.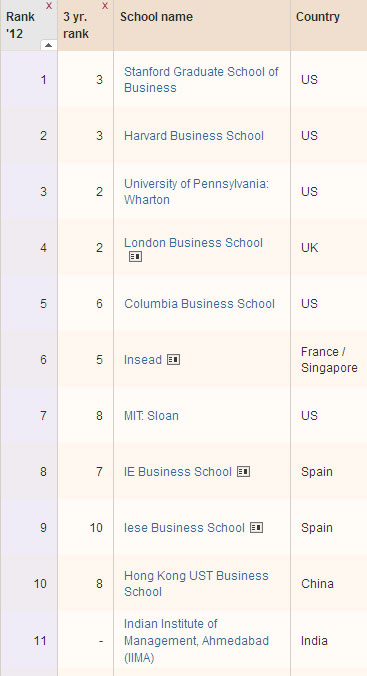 Methodology
FT used two online surveys to collect the required survey data. The first survey was completed by schools, while second was completed by b-school alumni who graduated in 2008. A 20 percent response rate was required from alumni for b-schools to be eligible for the ranking. This year, a total of 9,466 responses were submitted by alumni, 44 per cent of graduates contacted.
.