Goa hosts the first ever Pan IIM World Management Conference on "Emerging Issues in Management"
After having experienced in conducting Common Admission Test (CAT) for admission to IIMs, the pan IIM fraternity has come up for the first time in organizing world class management conference on Emerging Issues in Management at Goa during May 30 to June 1, 2013. Incidentally, with the help of a team of senior faculty members and seasoned facilitators of administrative staff, IIM Calcutta is the lead coordinator of this conference.
The Hon'ble Union Minister of HRD, Dr. M Mangapati Pallam Raju will inaugurate the conference in presence of programme chair and the deans and directors of some of the IIMs on May 31, 2013 at 9.30 am. The Hon'ble Minister of State, Ministry of Human Resource Development, Dr. Shashi Tharoor will also grace the occasion as Guest of Honour.

The Ambassador of France to India Francois Richier will be the special guest and other prominent keynote speakers include Dr. Shashi Tharoor, Minister of State for Human Resources Development, Shri Geet Sethi, World Professional Billiards Champion, Prof. Srikant M Datar, leading professor of Harvard Business School and Shri Rafiq Gangjee, Dharma Production (Leading Bollywood Film producer). The conference will focus on the broader themes like the Firm of the Future, Looking beyond Profits, Inclusive Growth, Managing People and Future of Management Education.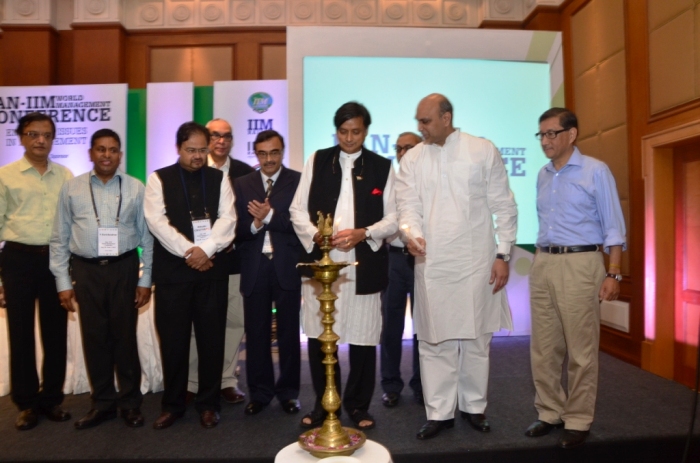 The conference will have footfalls of around 250 individuals with mixed bag of profiles, which would include professors, researchers, doctoral students, industry professionals and alumni of various IIMs. The occasion will offer them to have open-ended discussions on the topics of their respective domains and usher in development for future possibilities. Additionally, there will be twenty-nine paper presentations by leading research scholars from India and abroad and 12 poster sessions by PhD scholars.

The conference will also host two panel discussions, the first one being the topic on Innovation and Inclusive Growth, which will be moderated by Prof. Rishikesh T. Krishnan of IIM Bangalore and the members of the panel include Mr. Anil K. Gupta, IIM Ahmedabad, Mr. D. Shivkumar, Head - Operations, Nokia India and Dr, Suerie Moon, Harvard Kennedy School. The other panel would be on Government and Business, which will be moderated by Prof. Anup K. Sinha of IIM Calcutta and the members of the panel include Mr. Ravi Kant, Chairman-BoG, IIM Rohtak, Mr. M. Damodaran, Chairman- BoG, IIM Trichy, Mr. Hemant M. Nerurkar, MD, Tata Steel and Mr. Jawhar Sircar, CEO, Prasar Bharati, Govt. of India.

According to Professor Ashok Banerjee, Dean of New Initiatives and External Relations of IIM Calcutta and the Programme Chair of this conference, "IIMs have started the experiment of jointly organizing conference with India Finance Conference hosted by IIM Calcutta, IIM Bangalore and IIM Ahmedabad two years back. This time it is all thirteen IIMs coming together – it is a great experience and challenging too."
.