IIFT awards degrees at 46th Annual Convocation in the backdrop of 100% placements
| March 28,2012 03:02 pm IST
The Indian Institute of Foreign Trade (IIFT) today celebrated its 46th annual convocation at its New Delhi campus with jubilant students conferred degrees for various courses as their proud parents looked on..
Honble Commerce and Industry Minister Shri Anand Sharma delivered the convocation address, while Commerce Secretary Dr Rahul Khullar and Indian Institute of Foreign Trade (IIFT) Director K.T. Chacko presided over the ceremony. IIFT Kolkata Head Dr K. Rangarajan and IIFT Chairperson Vijaya Katti were also present on the occasion.
Delivering the convocation address, Mr Sharma said: In an increasingly competitive and ever-lucrative world of international business, a stronger case for Indian exports has to be presented before the developed world, especially the US and Europe, as protectionism has become an emotive issue. There is tremendous potential in sectors such as retail, health and education that must be exploited, for which the Government is doing its best to implement policies with inputs from various stakeholders. We also need to identify bilateral business cooperation avenues and opportunities to make India a successful contributor to the global investment flow.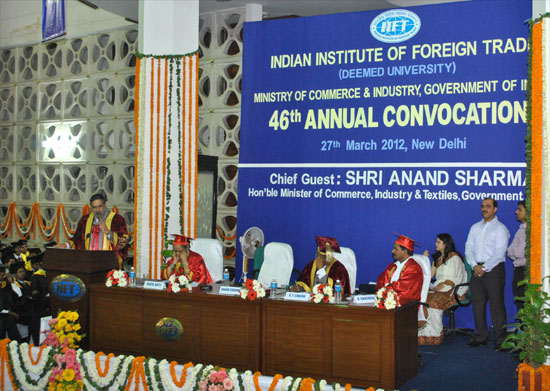 Encouraging the outgoing students, Dr Khullar said: Budding business graduates play a significant role in bridging the distances between India and potential markets and investors. The countrys widening trade deficit is a huge cause for concern as imports continue to rise while growth in exports decelerates, which could create pressure on the rupee.
Welcoming participants and briefing the gathering about IIFTs major achievements, Mr Chacko said: In nearly 50 years of its existence, the IIFT has become a deemed university most sought after by domestic as well as foreign students for its programmes and renowned faculty. Its MBA programme stresses various aspects of business education, including International Marketing, Finance, Logistics and Supply Chain Management. That is the reason why IIFT students receive placement offers from all sectors with a wide range of profiles.
206 students from the 2010-12 batch of the two-year full-time MBA in International Business graduated today. The institute also distributed prizes to students for academic as well as non-academic excellence. The prestigious Dun & Bradstreet Award for best student was awarded to 02 students, MBA-IB batch 2010-12. 1 student was conferred with the Prof. Sumitra Chisti Memorial Award for Best Performance in Economics & Trade Policy.
The IIFT created new benchmarks in this academic session by achieving 100% placements with more than 80 companies hiring from the institutes talent pool. Overseas assignments in Singapore, Dubai, Germany, Switzerland, Africa, Vietnam and Myanmar were bagged by 15 students. The highest domestic salary was Rs 19 lakh, while the average salary increased to Rs 12.1 lakh.
Concluded.
.