IIFT organizes National IT Symposium 2010
| September 06,2010 02:17 pm IST
The Indian Institute of Foreign Trade, Delhi hosted the National Information Technology Symposium in association with NASSCOM. Spanning a wide range of topics from E-governance to Human Capital Management and Green Technology, the event boasted of insight from a host of bright minds from across the country.
The Chief Guest for the event was Mr. Som Mittal, President of NASSCOMM.
Shri K.T. Chacko, Director, and IIFT who talked about the landmarks in the age of Information Technology in India inaugurated the symposium. "We managed to overcome the massive agitation led by political parties against IT with the computerization of the Railways as the first successful initiative." – began Mr. Chacko. He also stressed on the need to use technology as the means to eradicate poverty and achieve rural development.

In his keynote address, Mr. Som Mittal elaborated on the exponential growth of the Information Technology sector in India. "We are the fastest growing telecomm market in the world with 10-15 million mobile subscribers added every month" – he stated. In the field of rural development too, technology is spearheading the growth with 250,000 panchayats to be connected by broadband. Information Technology also constitutes 25 % of India's total exports. India is indeed the powerhouse of technology today and keeping this in mind, Mr. Mittal advised India to concentrate on "creating, rather than just meeting the market need."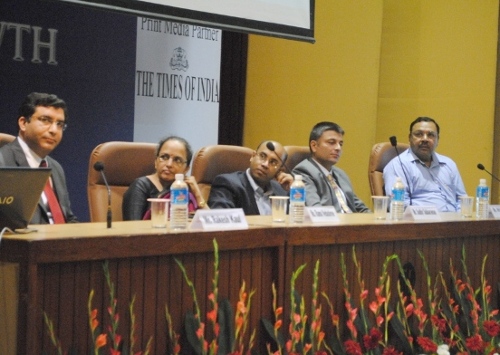 Chief Guest of National Information Technology Symposium at IIFT, Delhi
After the keynote address, a panel discussion on E-Governance was conducted which comprised dignitaries from diverse fields. The various topics discussed included the Mission Mode Projects, National E-Governance Programme (NeGP), Unique Identification programme and other initiatives in the field of e-governance in India. Ms. Rama Vedashree, VP, NASSCOMM was one of the panel members who stressed on the fact that "Only 42 % of subsidized grants reach the actual beneficiaries" and the need for implementing e-governance as a possible solution to the problem of corruption in India.
This session was followed by a discussion on Human Capital Management where the speakers elaborated on the various challenges faced by the Human Resources team in IT companies, where attrition rates are quite high. The topic for the final session was Green Technology where professionals from different companies talked about the innovations and schemes in the area of Green Technology, The Nokia "Planet ke Rakhwale" was one such scheme discussed.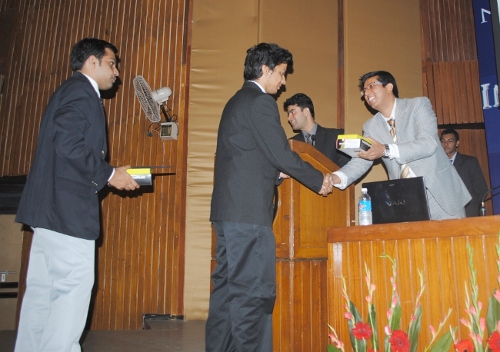 Winners of the Nokia Case Study Competition taking their prize
The symposium was concluded by a prize distribution ceremony where winners of the Nokia Case Study Competition, were awarded attractive handsets as prizes.
Concluded.
.