IIM Bangalore plays host to School Children from South Kashmir
| August 11,2011 06:11 pm IST
IIMB recently played hosted to a group of 35 school children from remote villages in the South Kashmir area. This was part of an initiative titled the Sangam Tour, and is part of the Sadbhavana being conducted by Victor Force under the aegis of 15 Corps of the Indian Army.
The aim of this tour is to provide an insight to students and young people about the opportunities available to them, as also to provide a glimpse of the unity as well as diversity in our country.
Professor Pankaj Chandra, Director, IIMB who interacted with the students, advised them that their visit to the IIMB campus should inspire them to study well and that one day they must make it to the IITs and IIMs. He also briefed them about the Institute and urged them to do well and contribute to the nation-building exercise.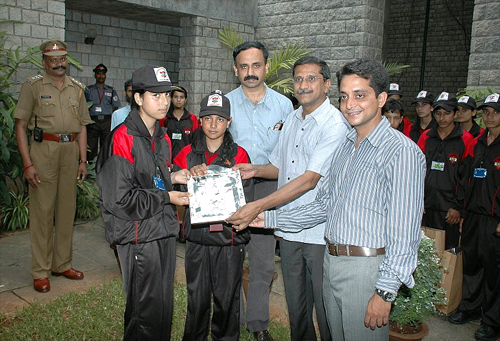 Professor Pankaj Chandra, Mr. Indu Shekhar Vassist and MajorArjayal with the Students
Speaking on the occasion Mr. C V Indu Shekhar Vassist, Chief Administrative Officer, IIMB said "We have been consciously working towards making the Institute more proactively involved in the process of nation building as well as community development. The interaction between the students and the faculty, students, officers and students of the Institute was both an occasion for us to learn as well as an enjoyable experience. We look forward to many more such opportunities."
According to Major Mahesh Arjyal of the Victor Force," The visit visibly triggered off a will to go for higher education in the minds of the bright but under exposed kids from the Valley. With this kind of exposures, the future of J&K definitely seems brighter."
On completion of their visit to IIMB, the students remarked that they learnt from their visit and that were very happy seeing the lush green campus.
Concluded.
.