IIM Kashipur Girls Joins Insight Dubai International Program at Dubai
Under the patronage of His Excellency Sheikh Nahayan Mabarak Al Nahayan, Youth and Community Development and Chancellor of the Higher Colleges of Technology ( HCT ), the Higher Colleges of Technology -Dubai, Women's Campus, (HCT-Dubai) is holding its annual Insight Dubai program this year focusing on women and leadership..
Sponsored by HSBC the program has brought together more than 160 Emirati and international students to discuss and exchange knowledge on women's issues.

IIM Kashipur's three girl students – Aakriti Goyal, Sherry Singh and Vibha Garg are among the six students representing India this year. The team is led by Prof Baharul Islam, who has initiated this international exposure opportunity specifically for girls who are expected to be business leaders in coming years. Organized for the 10th time, Insight Dubai aims at expanding participants' global awareness regarding differing views on selected women's issues and exploring governance structures and legal systems. According to Prof Islam, "The interactive style of the conference also allows its participants to dispel cultural myths about women and facilitate lasting bonds and networks between conference participants through academic, cultural and entertainment experiences."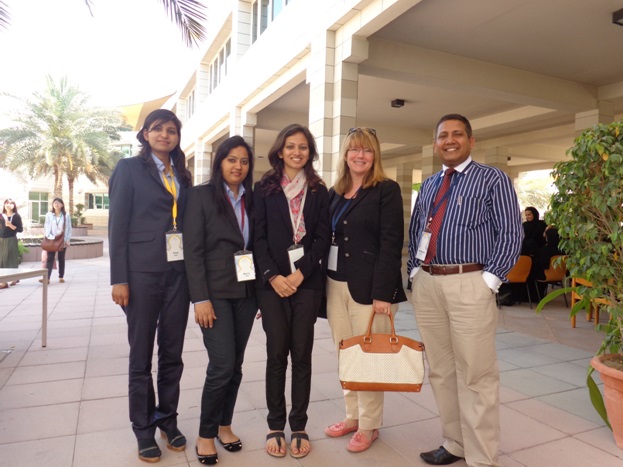 IIM Kashipur Students Vibha, Sherry, Aakriti with Prof Sandra Rahman of Framingham University (USA) and Prof Baharul Islam of IIM Kashipur at Insight Dubai 2014
Dr. Monica Gallant, Business Department Chair at HCT -Dubai, Women's Campus, and Co-chair of Insight Dubai conference said: "I believe that Insight Dubai conference is a life-changing experience for the young women who participate. Getting the chance to spend a significant amount of time engaged in meaningful discussions about leadership and global issues with women from 45 countries results in a new way of seeing the world and building lifelong bridges between cultures."

International students participating in this year's Insight Dubai event have come from Australia, South Africa, Italy, Spain, Tunisia, Afghanistan, India, Egypt, Palestine, Oman, USA, Poland, Canada, Singapore, Kenya, and Sweden. Emirati and international students will interact in a large variety of activities. The conference will also include site visits to Dubai's business district, Zayed Grand Mosque, the Federal National Council, and the Heritage Village in order to add to the participants' understanding of the local environment. The program also includes several contributions by Arab women leaders.These programs are all relevant to the UAE's fast growing and evolving economic sectors. All programs are designed in consultation with business and industry leaders to ensure that the skills students learn are job-relevant and meet high standards.
Concluded.
.