IIM Kozhikode hosts Mr Sandeep Dhar on Retail Innovations
| August 22,2012 05:37 pm IST
Indian Institute of Management Kozhikode (IIMK) had the privilege of being audience to Mr. Sandeep Dhar who shared his insights on the topic of 'Retail Innovations, including IT, CRM and SCM in Retail' with the students.
The Industry Interaction Cell of IIM Kozhikode frequently invites eminent leaders of the industry for guest lectures, keeping the students constantly in touch with the practical aspects of running a business.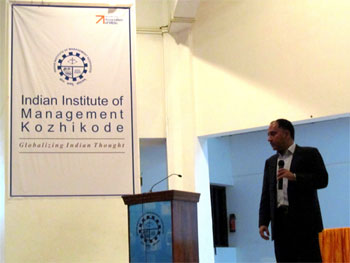 The students of IIM Kozhikode, found Mr. Dhar, the CEO at Tesco Hindustan Service Centre, Bangalore, immensely inspiring. Tesco is the worlds third largest retailer with a turnover of over 115 billion USD and employs over 500,000 people across 14 countries. Mr. Dhar brought with him 20 years of experience in retail banking and IT consulting from his time holding prominent positions in various organizations. Alumni of IMT Ghaziabad and the Wharton Business School, Mr. Dhar had a very thought provoking interaction with the students.
Mr. Dhar had a very lively interaction with the students. He discussed the importance of identifying the customer and the challenge it offers in business to customer relationship management. He pointed out the specific issues that plague the retail industry where a customer friendly stance will not suffice. He urged managers to turn customer centric which involves playing an active and appropriate role in the entire life cycle of the customer.
He recalled his experiences in TESCO and earlier stint at Cititbank to emphasis on the age old business mantra Customer is King. He discussed the role played by high end IT in collecting consumer data and infact using thermal sensing in reducing their inconvienence while shopping. Mr. Dhar also predicted that the future of retail shopping lay in the multiple channel strategies use where customers mixed both e-commerce and physical retailing. He mentioned TESCOs step in the same direction called Click and Collect where customers ordered online and collected from the retail outlet.
Mr. Dhar gave the students a heads up on the challenges faced by the Retail Industry, which is unique and highly competitive. He also patiently answered the many queries posed by the enthusiastic audience. The event closed with students expressing their deepfelt gratitude to Mr. Dhar.

Concluded.
.