IIM Kozhikode hosts Uday Chaturvedi during Leadership Talk Series 2012
| July 25,2012 10:34 am IST
IIM Kozhikode welcomed Mr. Uday Chaturvedi on campus on 11th of July 2012.
Mr. Uday Chaturvedi (Former Managing Director Corus Strip Products, UK and Former Chief Technical Officer - Tata Steel Europe) is one of the most revered names in the global steel industry. The event was organized by Industry Interaction Cell (IIC) of IIMK as part of the celebrated Leadership Talk Series.

Mr. Chaturvedi has served as the Director in many Tata Group companies and has held elite positions at Corus Strip Products and Tata Steel prior to becoming the Chief Technical Officer - Tata Steel Europe. He has a vast experience spanning across geographies like India, United Kingdom, Thailand, Singapore, Malaysia, Germany, Japan and Sri Lanka. Having authored numerous technical papers published in International Conferences and being presented with honorable awards like Essar Gold Medal, OP Jindal Gold Medal; Mr. Chaturvedi is undoubtedly one of the most eminent personalities in the global steel industry.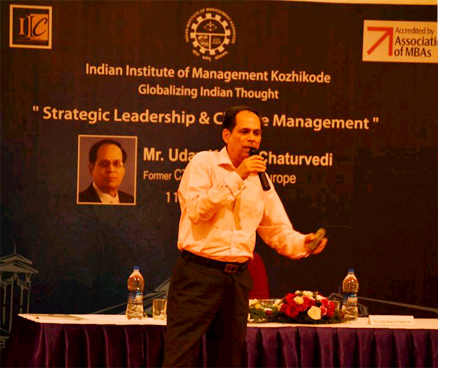 He interacted with the students of IIM Kozhikode and shared his learning on Strategic Leadership and Change Management, drawn from his personal and professional experiences of successful leadership that he demonstrated over the years. Mr. Chaturvedi also interacted with Prof. Debashish Chatterjee, Director, IIM K and several other faculty members.

During his tenure as the Managing Director of Corus Strip Products, UK, in the midst of the global financial crisis, he demonstrated exemplary levels of Strategic Leadership and pioneered several Change Management Initiatives which turned the Corus Strip Products division into a profitable and self-sustainable enterprise and took it to greater heights of business excellence. Known for his Strategic Leadership and Change Management Initiatives, his colleagues at Corus rightly said 'You Came, You Listened and You showed us How to WIN.

Mr. Chaturvedi was extremely pleased with his visit to Gods Own Campus and had kind words of praise reserved for the Institute, One of the late management Gurus whom I knew personally very well for many years had once told me that the smell of a place communicates a lot about it. I would say that I was very impressed from the moment I set foot at the Calicut airport to the time I left the city. A wonderful manicured garden with attractive buildings, highly courteous and inquisitive student community supported by very knowledgeable teaching fraternity and finally, the Director make the presence felt in all walks of life at the Institute...All in all, I can say that it would be an honor to anyone to become a part of this establishment.
Concluded.
.