IIM Lucknow students learn about Nation Branding by Mr.CD Mitra
| August 19,2010 04:26 pm IST
Celebrations marking the 64th Independence Day just concluded across the country. The students of IIM Lucknow however, extended the spirit of the occasion in their unique way by participating in a workshop on "Nation Branding".
This one of a kind workshop, was conducted by Mr. Chandradeep (CD) Mitra an eminent Media and Advertising Guru.

Mr. Mitra an alumnus of IIT Kharagpur and IIM Calcutta , has over 22 years of experience in the field of Marketing, Media and Communications. He has spent most of his corporate career in three of India's largest market communication groups- Lintas/Lowe, O&M and Mudra and has headed agency businesses on some of India's largest MNC and local marketers, including Unilever, J&J, Nokia, Reliance ADAG, SmithKline Beecham, Bajaj Auto, Jet Airways, Idea Cellular, MRF, Dabur, Spice Group, Coffee Board and American Express. He is currently the Founder & CEO of PipalMajik, where he plays the role of a senior Consultant, Coach & Trainer.

Addressing an enthralled audience for over an hour and a half Mr. Mitra provided the students a wonderful glimpse into the exciting world of Media, Advertising and Branding. Focusing specifically on the subject of Nation Branding and its importance today Mr. Mitra said that "Nation Branding is an Economic Imperative. It has become a central tool in country's competitiveness".

He also elaborated on how of the youth of today could leverage this concept in order to raise the country's brand to greater heights. He quoted an example of how Somalia's 500 pirates have more effect on the country's brand than the 5 million other Somali citizens. Students were so enthralled by his words that they were soon able to relate the concept with facts in India. One of the students quoted about the image of Kerala as "Gods own country" and the effect of this branding on the tourism.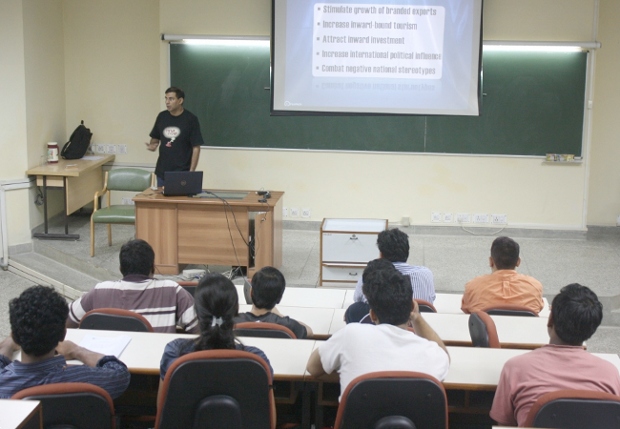 Mr. Chanadradeep Mitra Interacting with the students at IIM Lucknow

Held a few weeks after an equally enlightening talk on "Ad and Film making" by noted Bollywood director Mr. R.Balki, the workshop received an overwhelming response from the IIM Lucknow student community. The venue was packed to the brim and the students showed a high level of enthusiasm in their participation by asking insightful questions. Commenting on the value added Ms. Ishani Pruthi a second year student said that "
IIM Lucknow regularly invites leaders and industry stalwarts to campus to interact with its students. Some of the noted speakers last year were Mr. Ajit Balakrishnan – CEO Rediff.com, Ms. Kalpana Morparia– CEO JPMorgan, Ms. Meera Sanyal – Country Head ABN Amro/RBS, Mr. Sundar Raman - CEO Indian Premier League, Dr. Biswadip Mitra – MD, Texas Instruments, Mr. Sandeep Pandey - Magsaysay Award Winner and Dr. Wilfried Aulbur - CEO, Mercedes Benz India. Mitra's talk sure adds a new feather to IIM Lucknow's pursuit of excellence and holistic development.

Concluded.

.