IIM Raipur celebrates 'Earth Hour'
| April 02,2012 10:32 am IST
The global movement to create awareness about saving energy 'The Earth Hour' was celebrated by students of IIM Raipur. The students voluntarily chose to turn off all non essential lights between 8:30 pm to 9:30 pm.
The students expressed hope that this little contribution from their end would add to the global movement. A total of 200 lights, Air conditioning systems, 100 Laptops, 25 high powered lamps were turned off for 1 hour to contribute to the cause. The administration also joined in by closing the lights of the administrative block helping in the cause.
The planning for the effort began a day back by identifying the essential equipment like servers that would have to remain on. Other light and cooling system were classified as essential and non essential to ensure a smooth transition for the celebrations. Messages were sent through twitter and facebook page of IIM Raipur to sensitize others of the need to celebrate the same at their end.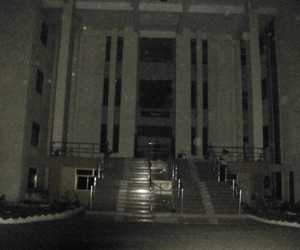 This year' earth hour campaign is ' I Will If You Will' with the intenntion of coordinating the the efforts through the use of social media and email. The campaign also has a dedicated YouTube presence. The celebration of earth hour is one of the part of the efforts being made by IIM Raipur to spread awareness about the need to bring a social change by thinking and integrating sustainability in our practices.
The Social Responsibility Club of IIM Raipur 'Kartavya' coordinated with the students and also played the message of this year's campaign before the student community to highlight the world wide commitment and support for this programme.
The programme which began in 2004 has now become a focal point of energy conservation movement across the globe and is celebrated across the globe where prominent landmarks turn dark to show their support to the cause.
Concluded.
.