IIM Shillong and National Stock Exchange to Collaborate
| August 22,2011 04:57 pm IST
Bringing to live a leadership quest since inception, IIM Shillong is set to become one of the few elite Management Institute in the country to establish a Financial Simulation Laboratory at its campus..
This is the outcome of a strategic partnership build up between IIM Shillong represented by its Director Prof AK Dutta and the National Stock Exchange represented by Mr. GC Sharma, Head Financial Education School & Universities, NSE India Ltd.
"It is my understanding that this collaboration will not only also attract global students for financial markets, but also develop highly specialized skills for students. More importantly we are looking at increasing excellent career prospects and a hugely improved earning capacity," stated Prof Dutta.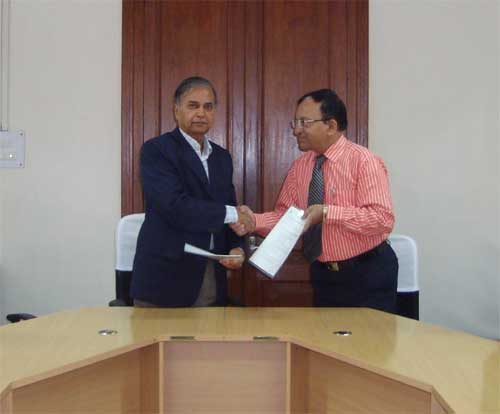 The collaboration would also include Certificate Courses under Management Development Programs in the areas of Financial Valuation and Modeling, Derivative Trading Strategies, Financial Engineering, Equity Research, and others apart from jointly offering relevant courses in the PG program.
Expressing his happiness, Mr. GC Sharma said, "We are happy to get this opportunity to collaborate with IIM Shillong, which is well known for doing things innovatively. This surely is a move in the right direction, and would facilitate quality management education in the area of Finance."
The formalities would be completed in the near future.
Concluded.
.