Infrastructure, Student Profile and Placement at TISS (Tata Institute of Social Sciences), Mumbai
| September 17,2010 02:14 pm IST
Sir Dorabji Tata Memorial Library
The Sir Dorabji Tata Memorial Library (SDTML) is one of the best social sciences libraries in Asia. It is recognized by the UGC as a National Document Delivery Centre in the field of Social Sciences.
.
1-The library holds about 1, 09,000 volumes, 1,600 audio-visual materials and subscribes to over 249 journals
2-The SDTML provides a host of information services to its users like current awareness bulletin, new additions, selective dissemination of information bulletin, online public access catalogue (OPAC), document delivery service, reference service, bibliographic service etc.
3-It has established an institutional repository for providing access to electronic thesis and dissertations, faculty project reports, field action projects and publications.
4-M. K. Tata Memorial Learning Centre has been setup at Sir Dorabji Tata Memorial Library, TISS in 2008 to provide innovative teaching techniques and philosophy that continues to have far-reaching effects on the lives of visually challenged and taking them to new heights of independence. A variety of assistive technology and software is available at the Library for persons with disabilities.
Cyber library
The purpose of the Cyber library is to provide seamless access to over 4,500 online journals; data transformation and word processing packages; social, economic, health, demographic and environmental databases and internet resources. It has over ninety Pentium100 workstations with broadband internet access and is available for students on a full-time basis. With the installation of the wireless access points across the campus, the entire campus is now Wi-Fi enabled, including hostels and classrooms.

Computer Center
The Computer Centre was established with the aid of the Indian Council for Social Science Research (ICSSR) to process the data of research studies undertaken by the Institute's faculty, M.Phil. and Ph.D. scholars, and Master's degree students. It also provides training in data processing to research scholars, and has been recognized by the ICSSR as a Centre for Consultancy in Data Processing and Analysis.
TISS has the Tata Memorial Gymkhana, which has a Gymnasium, Badminton Court, TT facilities, Carom, etc. Daily Yoga and Aerobics Sessions are also held during morning and evening hours. The Dorabji Tata Memorial Library has a full-fledged cyber-center. The campus is wi-fi enabled and recreation rooms / dining halls have huge flat screen TVs. Cricket matches are aired using projectors, and every Saturday night, a movie screening happens so that the students could entertain and relax. Beside this, basket-ball and volley-ball courts are also present in the campus.
Convention centre
The campus has a fully air conditioned, state of art convention centre that boasts of excellent acoustics and has a visual set up and a seating capacity of 500 people. The centre serves as the venue for several national and international seminars, workshops and conferences.
Excellent campus terrain, several teaching blocks in a bucolic set up??????

Admitted Students' Profile

2010 – 12 Batch Details: Educational background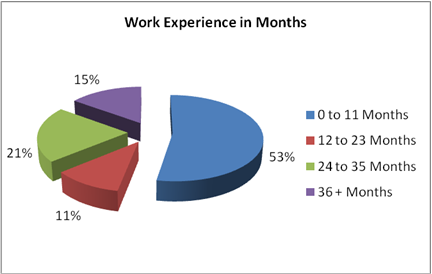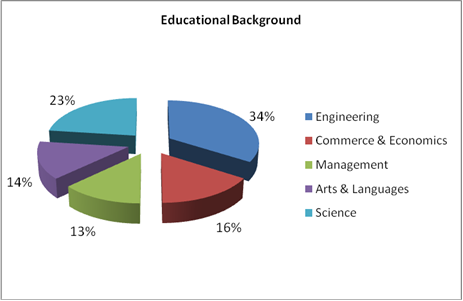 Placements
TISS has been able to achieve 100 per cent placement for its students. The highest salary offered is INR 16 lakhs per annum and average salary is INR 11.30 lakhs per annum. The key recruiters recruiting before and during placement week at TISS are as follows:

FMCG - HUL, P&G, Nestle, ITC, Marico, Asian Paints, Cadbury.
Consulting - Hewitt Associates, PwC, KPMG, Accenture Consulting, E&Y.
IT - Microsoft, Google, Yahoo!, Wipro, Infosys, IBM, US Tech, Patni, Tech Mahindra, Dell.
Banking & Finance - JP Morgan, Deusche Bank, Lehman Brothers, ICICI, Axis, HSBC, Citi.
Consumer / Diversified - Nokia, RPG Enterprises, Tata HRDP, Pepsi, Coke, Motorola, M&M.
Sector distribution: Preference of sector is shifting towards conglomerates with 28% of the batch choosing the same in the last batch. IT/ITES's presence remains solid with 25% batch selecting them. FMCG & Manufacturing get 20% and 15% respectively.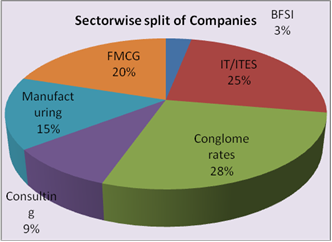 Final Placement Report
Batch Strength - 65
Pre Placement Offers - 14
Fieldwork Placement Offers - 03
Lateral Offers - 13

.