Kerala CM launches IIM Kozhikode Satellite Campus, declares 5 acres land for Kochi campus
| June 09,2012 05:05 pm IST
IIM Kozhikode, The only IIM in the country having an internationally accredited Executive Management Education launched its 1st satellite campus at Kochi Infopark on 9th June, 2012. The Kochi campus focuses on executive education with full & part time or short term programs as well as specialized courses for middle and senior management employees to enhance and upgrade skills for better career prospects.
The satellite campus was launched by Shri Oommen Chandy, Hon'ble Chief Minister of Kerala, extending his full support to the growing demand for rapid internationalization in his efforts to make Kerala a global hub for economic activities.
The launching ceremony was attended by many dignitaries like, Shri K.M. Mani, Hon'ble Minister for Finance, Kerala; Shri P.K. Kunhalikutty, Honble Minister for Industries & IT, Kerala; Shri K. Babu, Honble Minister for Fisheries, Ports & Excise, Kerala; Shri P.H. Kurien, Principal Secretary, Dept. of IT, Govt. of Kerala; Shri Benny Behanan, MLA, Shri Gigo Joseph, CEO, Infopark, amongst other honourable members present.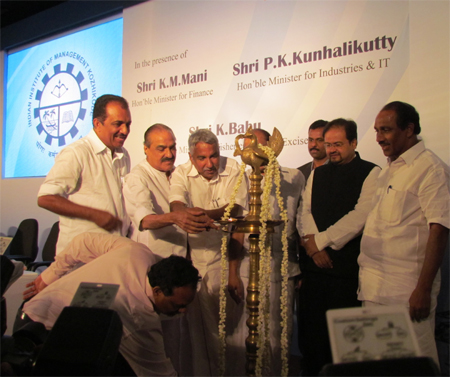 Addressing the media, Prof. Debashis Chatterjee, Director, IIM Kozhikode, said, Today is an exciting and memorable day in the history of Kochi as we stamp our first footprint in the commercial capital of Kerala. Beginning on an auspicious note, IIM Kochi is an extension of the aspiration we have created in the Malabar region for a Vibrant and Emerging Kerala with support of Honble Chief Minister of Kerala in our endeavour, received a huge fillip. I earnestly thank the Govt. of Kerala for giving us the space to build our own campus here. We realize the progress of industry is not possible without the educational progress of infrastructure in place.
The satellite campus will initially offer one year residential executive MBA program as well as two year part time programs in addition to a large number of short and long Management Development Programs; will commence admissions from October 2012.

As the campus is located inside the Infopark, Kochi, it will directly help the executives at the park to hone their management skills thereby enhancing the competitiveness of Indian IT sector and boost the IT sector growth.

IIMK aims to work as a catalyst for creating serious academic collaborations with internationally reputed Institutions for offering high end executive education programs. This will also support the ongoing research activities of IIMK The Mother campus - by creating networks with corporate and business organization which are easily accessible from Kochi.

The above scheme of developments will supplement setting up a Business Incubation centre to support innovation and growth among young graduates within the eco-system of Info-park.
Prof. Chatterjee further adds, Our vision for India is inclusive education and promotion of excellence. We are on the path of achieving unique synthesis of value for money and value for many.
Shri Oommen Chandy, Hon'ble Chief Minister of Kerala credited IIMK in the inaugural speech saying, the institution is striving and working towards excellence in the teaching and research space. Kerala is proud to have an IIM in its state. I envision every 2 to 3 members in the cabinet to be an IIMK student. He further added, I am very happy to declare 5 acres of land for the satellite campus of IIMK at Kochi and I extend all best wishes to IIMK in all its future endeavours.
Delivering the presidential address, P.K. Kunhalikutty, Honble Minister for Industries & IT, Kerala said, We want to improve our system and are ready to explore different paths. Emerging Kerala will welcome more collaboration that will help strengthen our eco-system.
The programme brochure was released by Shri K. Babu, Honble Minister for Fisheries, Ports & Excise, Kerala which can be downloaded from the Institutes website.
Further Shri K.M. Mani, Hon'ble Minister for Finance Kerala added, We are living in a globalized society and have to compete with others. To keep pace with this changing culture, training in management becomes inevitable. Management is everything, management of money, management of resources, people, goods, work force and so on. We were previously inducted in IIMK through a special module prepared for the Kerala Ministry. Today I can proudly say that we are gearing up for the second phase of the induction.
Shri Gigo Joseph, CEO, Infopark concluded with a heartfelt gratitude saying, Dreams come true, we have one existing campus and soon in the process of building another campus in Kochi through the 5acres of land allotted.
IIM Kozhikode is in a stage of accelerated growth. During the last 16 years of its existence, IIMK has increased bouquet of its offerings while keeping highest levels of quality thereby strengthening repute of the IIM brand. Its PGDM program has an enrolment of around 400 students while the satellite based Interactive Onsite Learning Program has over 500 participants, every year.

At this juncture, expansion of IIM Kozhikodes operations outside the Kozhikode campus is integral to the vision of Kerala as an emerging hub for young knowledge workers. The best choice for such a campus in Kerala would be unquestionably, Kochi. IIM Kozhikode has chosen Kochi, the commercial capital of Kerala, in line with the need to create the right environment to facilitate the transformation of Kerala into a business hub and a preferred investment destination.
.