MDI Gurgaon hosts Mr. Peter Hall, Vice President and Chief Economist, EDC
| October 16,2012 09:51 am IST
Mr. Peter Hall, Vice President and Chief Economist, Export Development Canada was at Management Development Institute on Friday, to talk about the future outlook of the world economy in the coming months, and what are its implications for India.
Interacting with the National Management Programme (NMP) students, Mr. Hall affirmed that out of all the economies in the world other than Canada, he is most excited about the future of India.

Mr. Peter Hall is economic and political risk analyst at Export Development Programme and has over 20 years of experience in domestic and international forecasting and analysis. As a forecaster, I believe that it is impossible to tell where the world economy is going to go if you dont understand where the world economy has come from and where it is right now, he said. While addressing the students, he mentioned the growth potential of India and how it could help in driving the global economy with its resources and development but it needs an engine to drive it. He comments, Indias growth path is very different from any other economy. You have people, automatic mechanism and desire to grow as a nation. There will be pressure on the external companies to manufacture in India in the coming years. I am hoping Canada gets its foot in India first as we see the prospects in India and we want to do business here. Also, he talked about the economic meltdown in the US and problems that the worlds largest economy is facing.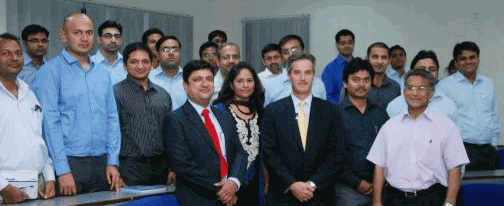 A student from the National Management Programme raised the point of FDI during the lecture and directed it saying, People have this inherent fear that foreign companies are outsiders. They will reap the benefits as long as it is getting them something but these companies could also withdraw their investments. This is what worries the common man long term stability in the country.

Mr. Hall pointed out to the students that the opportunities and growth that Foreign Direct Investment brings and also talked about the disadvantages. He clarified that FDIs can bring more business and employment opportunities to the people and the capital made would be spent in the country for development purposes. Explaining in details the integrative trade model of the world and the one hour session discussing the Indian economy and its relation to the world concluded with an official acknowledgment to Mr. Hall for his time and insights.

Prof. Gita Bajaj, Prof. J N Godinho and Prof. Sunil Ashra from Management Development Institute were also present at the event.
.