MDI, Gurgaon Joins Hands with Maruti Suzuki India Limited for Open Innovation
| August 03,2010 01:36 pm IST
Management Development Institute (MDI), in its endeavor to establish academia and industry collaborations has signed a major MoU with Maruti Suzuki India. This agreement has been done to engage in constructive partnerships at multiple levels including the area of research, training, academic programmes and conferences.
The MOU was signed by Dr. B.S. Sahay, Director MDI and Mr. S. Y. Siddiqui, Managing Executive Officer-Administration, Maruti Suzuki India Limited. On this occasion, Prof. C.P. Shrimali, Dean Continuing Education MDI, Prof. Metri, Dean Graduate Programmes, Prof. Bhusnurmath, Dean Placements and Corporate Affairs, Prof. Jaiswal, Dean Research and other faculty members from MDI were present. From Maruti, Mr. A. D. Burman, GM- HR, Maruti Suzuki India Limited also joined the occasion.
The tie-up is an important step in the two way industry-academia partnership which MDI is deliberating upon. MDI, being the market leader in executive education in India would undertake competency development programmes for different levels of executives at Maruti. The agreement envisions utilizing the excellent intellectual resource and infrastructure of MDI to facilitate Maruti in its various areas of talent and organization development. Speaking on the occasion, Dr. B. S. Sahay said, "As a B-school, we need to create opportunities to bring together academia and industry.
MDI and MSIL have been working together for a long time however this MoU would further strengthen and reinforce the relationship. In the past MDI, has designed customized short duration course offerings for the senior executives of Maruti Suzuki India. With this tie-up MDI is looking at a partnership beyond that as MDI and Maruti will now work together in doing joint research, organizing conferences and writing case studies. This would help in creating knowledge for the larger interest of society".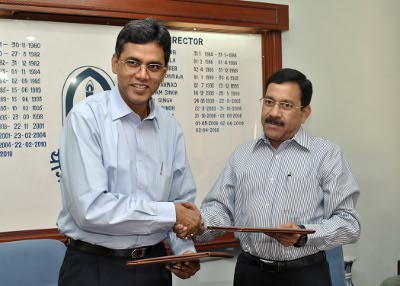 Mr. S. Y. Siddiqui commended MDI's efforts towards bringing the industry and academia closer. Speaking on the tie-up, he said "Maruti Suzuki is confident that the MoU and subsequent management training at MDI will transform executives across levels into tomorrow's visionary corporate leaders. Maruti Suzuki which already has a track record of nurturing and producing outstanding managers through its impeccable work culture will derive further benefits through this association." The auto giant highly praised MDI for bringing significant innovation in research and expressed their willingness to collaborate in various areas including research based on their internal requirements.
The MOU has been signed for an initial period of 5 years to be reviewed for further extension. This would be a mutually beneficial arrangement as Maruti Suzuki India Limited is India's largest passenger car company, accounting for over 50 per cent of the domestic car market and MDI is ranked among the top five B-Schools in India.
Concluded.
.