MDI Gurgaon signs MoU with Richard Ivey School of Business, Canada
| February 23,2012 12:30 pm IST
In its endeavor to forge linkages with leading Business Schools, Management Development Institute (MDI) has signed a Memorandum of Understanding (MoU) with Richard Ivey School of Business, the University of Western Ontario..

The MoU was signed by Prof. Mukul P Gupta, Director MDI and Carol Stephenson, Dean Ivey School of Business at MDI, Gurgaon campus.
Commenting on the collaboration, Prof. Gupta said, We are extremely pleased to associate with Ivey School of Business to develop and release publications on case materials. The agreement will support MDIs emphasis on case-based teaching and writing, and the publications will henceforth benefit a larger group of students. The collaboration will buttress the complementary strengths of both institutes. This is a very strategic partnership for us and we hope to further strengthen our association with Richard Ivey School of Business going forward.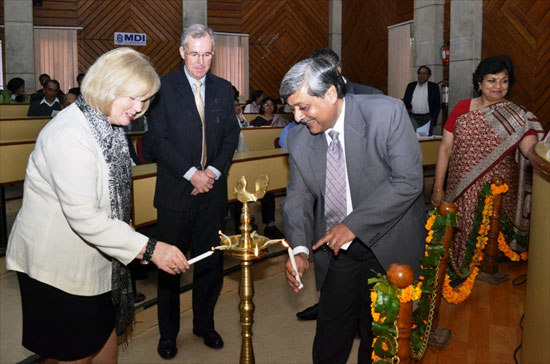 Speaking on the occasion, Carol Stephenson said, Providing business case studies with a global perspective, Ivey publications will now develop India-based case materials for business education to be taught in India as well as abroad. The partnership will not only give Indian students exposure to Iveys real-world, field-based cases, involving actual interviews with businesses from around the world, but even benefit foreign students who garner knowledge about Indian cases.

The objectives of the collaboration are:
1. to leverage Iveys rich knowledge base and accumulated intellectual capital in business case study research to further the use of case studies as a pedagogical approach at MDI; and
2. to support MDIs emphasis on case based teaching and writing to enhance its reputation as a leader in management education in India
This collaboration has 2 components: (1) CASE WRITING AND TEACHING TRAINING, and (2) CASE PUBLISHING.
Both Ivey and MDI will share their knowledge base, expertise and accumulated intellectual capital, recognizing the broad spectrum of skills and business experience that students need to tackle challenges in todays complex business world.
.