Narayana Murthy addresses students during convocation at FORE School New Delhi
| May 11,2012 03:19 pm IST
Calling upon the graduating batch of FORE School of management, New Delhi, Indias most respected and powerful CEO of all times, Mr. N R Narayan Murthy, urged the students to align personal objectives with the growth impulses of the country and to take up the responsibility of contributing to the society.

In his speech, Chairman Emeritus, Infosys Limited, who was the Chief Guest for the 19thConvocation Ceremony of FORE School of Management, also quoted American Social writer, Eric Hoffer, In a time of drastic change it is the learners who inherit the future and emphasized his point that every citizen has an important role in the undertaking of the nations development; however, the educated ones have a greater opportunity and consequently a greater responsibility towards this contribution.

Talking about post independent India, he mentioned, that the country has produced world class scientist and engineers, built bridges, dams and factories, send satellites, rockets, globally renowned for software programming skills, a nuclear power and a force to reckon with. Indias GDP is the second fastest growing and its economy now an important factor. But the fundamental question is have we fulfilled the dreams of our founding fathers of having a country where every individual lives freely, basic amenities are in place and where poverty does not exist? He quoted Rabindranath Tagore, Where the mind is without fear and head is held high and said, We still have more than 350 million Indians living with a mere Rs.36.00 per day; 250 million Indians do not have access to save drinking water. Over 750 million Indians do not have access to decent sanitation.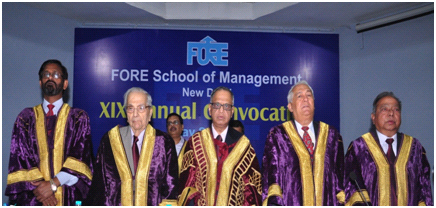 India ranks 6th or 7th in the global hunger index. It is therefore appropriate to think of few important things. Have India made significant progress since independence. Can we be happy about the progress? Have we kept up with the pace of progress compared to the rest of world? Have we achieved progress which is sustainable?
Asking the future business leaders present in the auditorium, What can they do to achieve that India? he left them with valuable insights, advising them to benchmark themselves always with the best in the world and keeping focus on execution, as the need of the day is to bring efficiency and excellence in professional lives.

A total of 268 students graduated this year, in the three variants of the Post Graduate Diploma in Management (PGDM) course offered by FORE. Of these, 170 were from the flagship full-time PGDM course, 56 students from PGDM (IMG) and 42 students from the PGDM (WMG) course.
Also present in the ceremony was Mr. R.P. Billimoria, President Emeritus FORE (Former Chairman-Public Enterprises Selection Board, Govt of India & Former Chairman- SAIL) and Mr. R.C. Sharma, President, FORE (former Director CBI, Govt. of India) along with Director Dr. Jitendra K. Das, Director, FORE, whopresented the annual activity report for the institute. Apart from dwelling on the research output by the faculty and the laurels earned by FORE students at various forums he emphasized on FOREs new phase of growth by going international through exchange programmes and engagement with prestigious schools like ESC Rennes, School of Business (France), Faculty of Business, UNB (Canada), Savannah University (USA) and Asian Institute of Technology. More such agreements are in the pipelinewith Universities in Europe, North America and Asia-Pacific. The current batch onwards will be exposed to the international business environment through an intensive immersion programme in international B-Schools.
100% of FORE final year students received their placement offers and 100 % of the first year students secured their summer internship. The highest CTC this year soared to Rs. 32 lakhs, as compared to last years Rs. 13 lakhs, while the average CTC for final placements increased from last years Rs. 7 lakhs to approximately Rs. 8 lakhs this year. 32 out of the total 111 were new recruiters for the final placement this year, including companies like TATA Motors Ltd., HSBC, Castrol, Genpact, C.B. Richards, UB Group, Michael Page International, EXL Services, Honeywell, Maruti Suzuki, Sony India, Jones Lang LaSalle, Axis Bank, etc.
Concluded.
.