NITIE organizes EnVision for a Green Tomorrow
| August 21,2010 04:09 pm IST
NITIE (National Institute of Industrial Engineering), Mumbai, organized 'EnVision 2010', a Carbon Neutral Event, on Friday, 20th August 2010 at Hotel Peninsula Grand. The flagship event of PGDISEM (Post Graduate Diploma in Industrial Safety and Environment Management) programme at NITIE lived up to its core value – "Environmental Vision for the managers of tomorrow".
The Inauguration ceremony was graced by Dr. S. D. Awale (Director, NITIE), Prof. A. K. Pundir (Convener, EnVision & Dean of Placements), Dr. B. M. Ghodeswar (Dean of Academics) and Group Co-ordinator Prof. Seema Unnikrishnan.
Prof. A. K. Pundir opened the event with the words, "The need of the hour is to make the industry conscious towards the environment". In his inaugural speech, Dr. S. D. Awale said, "Generally, EnVision is understood as 'Environmental Vision'. But, I look at the word 'EnVision' as a single word 'Envision'. It means to visualise the future and to make that vision broader. It is the responsibility of the ambassadors of NITIE to translate these (green concepts) to layman language". Prof. Unnikrishnan added, "EnVision is about the growing importance of green products which have reduced impact on the environment at each stage of their product lifecycle."
Among the inter-college competitions held during EnVision were "Let's Go Green", the case study competition sponsored by PE International (first prize - NITIE Mumbai, second prize – NMIMS Mumbai), "EnQUIZitive", a unique Enviro-Business quiz (first prize – NITIE Mumbai, second prize – IIFT Delhi) and "Panorama", a photography contest, welcomed as an innovative addition to EnVision this year (first prize – FMS Delhi, second prize – NITIE Mumbai). Over 500 students from top B Schools across India like IIM A, IIM C, IIM L, IIM K, IIM Shillong, MICA, SPJIMR, FMS and MDI participated in the preliminary rounds.
The highlight of the day was "Sustainability Forum", a panel discussion sponsored by ICICI Bank. Mr. Ganesh Tripathy (Head EHS and Sustainability, South Asia, Unilever), Mr. Jaisingh Dhumal (Chief Manager, Technology Finance Group, ICICI Bank), Mr. Niranjan Khatri (General Manager, Welcomgroup, ITC, Head – Enviro Initiatives), Mr. Uday Bhaskar (General Manager, Environment, Essar Group); Mr. Vijay Khole (General Manager, Research & Development, Mahindra and Mahindra Ltd.) and Mr. Sudhir Chavan (Principal Consultant, PE International) formed the distinguished panel. They imparted their knowledge, expertise and views on the topic - "Green Products - from Rhetoric to Reality". Mr. Prasen Agali (Managing Partner of GCA) was the moderator for the discussion. It was an enriching opportunity for the audience as they absorbed the knowledge and wisdom radiated by these luminaries.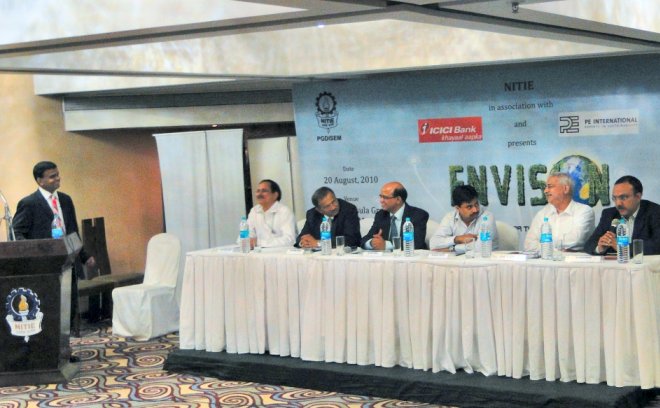 Speaking on the importance of corporate responsibility, Mr. Ganesh Tripathy said, "Small actions can make a big difference towards sustainable development". Mr. Vijay Khole talked about alternative saving by cultivating habits of investing in savings by companies. "90% of the green initiatives taken by companies are due to Government thrust", said Mr. Uday Bhaskar quoting CFL bulbs as an example. Mr. Niranjan Khatri stressed that it is important for us to become eco-responsible rather than being eco-friendly.
ICICI Bank – Go Green Initiative and PE International were the Associate Sponsors for this event. PagalGuy was the Media Partner and Prueba was the Knowledge Partner.
As the event drew to a close, every person felt a sense of responsibility towards sustainability, having gained knowledge about different environment-friendly products and their contribution to a secure future.
Concluded.
.