Now IIM Calcutta has a Gift Shop for the alumni
| April 30,2012 11:16 am IST
IIM Calcutta has set up IIMC Gift Shop which stocks and sells IIMC branded merchandise and memorabilia in the campus. This shop was inaugurated by the Chairman, Board of Governors on April 02, 2012 in presence of Board members, Director, Deans, professors, some students and officers and staff.
The inauguration was complete with the maiden purchase of some memorabilia items and merchandise by the Chairman, BoG, Shri Ajit Balakrishnan and other board members follow suit. The shop is located in the Tata Hall.
This shop has been a distant dream for many years for us but the idea of establishing the shop strategically came up and took its shape during the prestigious Golden Jubilee celebration when the campus saw the participation of good quality of important stakeholders of the institute including alumni and old retired professors. This shop definitely echoes the sentiments of the IIMCans comprising of the current students and alumni alike.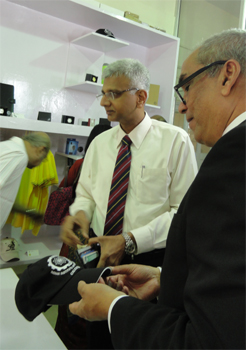 The Gift shop currently stocks more than 50 varieties of items which include branded T-Shirts, Shirts, caps, Laptop bag, sports bag, travel bag, wrist watch, time piece, eco bottle, capsule speaker, key chain, organizer, pen and many more. Each and every item is branded with IIMC logo and is sourced from the best available brand in the respective domains.
One can buy items from the Gift shop either in cash or through debit/credit cards. We have plans to start online shopping in the near future through payment gateways on IIMC web portal.
Concluded.
.