Singapore Management University & IIM Bangalore partners to boost research and PG education in management
| May 29,2012 12:12 pm IST
The Singapore Management University (SMU) and Indian Institute of Management Bangalore (IIMB) today entered into a Memorandum of Understanding (MoU) in management research and education..
The MoU will facilitate joint research and publication by faculty of SMU and IIM Bangalore, the organization of research seminars and workshops, and support for research projects in research centers at both institutions in areas of mutual interest. SMU and IIMB also intend to invite doctoral students and junior faculty to participate in Summer Institutes / Winter Institutes to be hosted or co-hosted by the institutions. The MOU also provides for the exploring of joint executive education, faculty exchange, and graduate student mobility between the two institutions.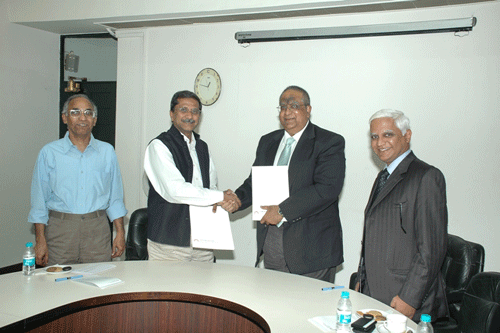 (L-R) Dean-Academic, Devanath Tirupati, Director, Pankaj Chandra with SMU Prof Srivastava and SMU Sr. Assoc Director S N Venkat
Commenting on the significance of the formalisation of the alliance between SMU and IIMB, Professor Rajendra K. Srivastava, SMUs Provost and Deputy President (Academic Affairs) said, The rapid emergence of many Asian nations, with India and China as forerunners, has resulted in the regions robust growth and a profound transformation of the global economic landscape. Given the strong presence of both Bangalore and Singapore in Asia, we look forward to the IIMB-SMU collaboration playing a major role in the development of the Bangalore-Singapore educational and commercial axis.
Professor Pankaj Chandra, Director, IIM Bangalore, remarked, IIMBs efforts are aimed at emerging as the premier research school out of India. The partnership with SMU will reinforce this strategic direction. It will provide access to research and teaching opportunities in South-East Asia and create global opportunities and visibility for our students and faculty.
Given the common focus of both SMU and IIMB and their leadership positions in tertiary education as well as management research in their respective geographies, this tie-up is expected to boost research productivity at both institutions. The collaboration is also in line with SMUs strategic investment in developing Asian market insights and cross-border management capabilities.
Concluded.
.