Sri Sri Ravi Shankar Releases Book by IIM Kozhikode Director Prof. Debashis Chatterjee
| August 14,2012 01:28 pm IST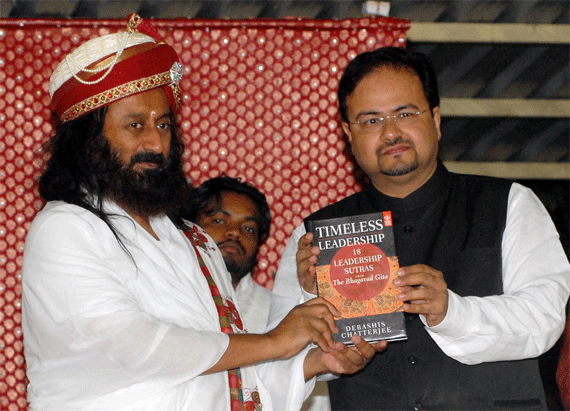 [Sri Sri Ravi Shankar along with Prof Debashis Chatterjee, Director, IIM K, releasing the book]
His Holiness, Sri Sri Ravi Shankar released the book titled, Timeless Leadership: 18 Leadership Sutras from the Bhagavad Gita authored by Prof Debashis Chatterjee, Director, IIM Kozhikode on Saturday, August 11, 2012, at the Art of Living International Center, Bangalore before an august gathering of thousands of devotees.
For over two millennia, the Bhagavad Gita, ('Song of God'), a revered Hindu religious text, has been a source of guidance for millions of individuals around the world. Prof. Debashis Chatterjee, Director of Indian Institute of Management Kozhikode, in his book Timeless Leadership: 18 Leadership Sutras from the Bhagavad Gita contextualizes timeless lessons of this revered spiritual text to an entirely new audiencetoday's business leaders. Distilling the essential lessonor Sutraof each of the Gita's eighteen chapters into a meaningful message for leaders at all levels, the book challenges the reader to change the way an individual thinks in order to change the way he acts.
Timeless Leadership focuses on one central point: that once the basic thought process of man is improved, the quality of his actions will improve as well, leading to better results. The book highlights the relevance of Bhagavad Gita in the boardrooms of the twenty-first century as it was on the battlefields of ancient India. It elucidates how the 18 Sutras address the anxieties of modern business leaders, illuminate the way to refocus their energy and change their perspective on the world and their place within it.
.