Webinar session held at VGSoM (IIT Kharagpur) - GLOBAL IN-HOUSE CENTER [GIC]
| January 24,2013 10:08 am IST
"Profit is never your goal, Management is" - the words which gyrated in VGSoMites minds during the lecture. If you manage properly, profit is bound to flow in.
The Corporate and Media Interaction Cell once again proved its mettle by conducting yet another successful guest lecture as part of its guest lecture series - Varta '13. This was the inaugural guest lecture for the Spring semester and it was embellished by Mr. Lokesh Payik, Director - Engineering Centre and Business Development at TT Electronics. The webinar was on one of the hottest topic in the current industry – 'Global In-house Center(GIC)'. Mr.Payik is a graduate in Automobile Engineering and a post graduate in management from La Trobe University, Australia. He started his career at IFB automotive as a management trainee and worked close to a decade there. Later, he joined Bosch through a highly selective Junior Management Program and worked there for five years gaining experience in various dimensions like HR, Business Development, Corporate Planning and Strategy.

The next two hours went in a jiffy with the audience glued on to what Mr. Lokesh was articulating. He gave VGSoMites an introduction as to what GIC meant, present state of GIC in India, scope of GIC in India, advantages India has over other countries for starting such a venture, etc., which proved to be enriching to the fresh minds at VGSoM. He also explained the various models of GIC namely the Own GIC, the BOT, the Hybrid GIC and their key differences. The way these models worked and the comparison between their costs and starting effort (in months) were keenly observed by the students. The question and answer session at the end always gives an idea as to how much the audience has fed upon your thoughts. This was one of those lectures which proved to have a wide variety of questionnaires from variety of disciplines concerned with GICs. Mr. Lokesh answered all the queries with innate ability, citing real time examples.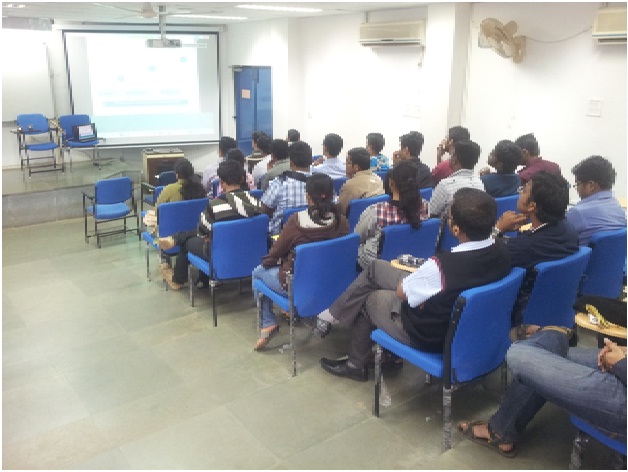 On the whole, it was a great start to the Spring semester with a wonderful session from Mr. Lokesh Payik, inaugurating the guest lecture for this season. The whole batch had a lot of takeaways from the session. As the famous saying goes 'Good talk saves the food', the whole batch of VGSoMites had their ambrosia of knowledge that day. A good beginning makes a good ending. After a successful start to the season, the Corporate and Media Interaction Cell at VGSoM are back again in business for organizing many such events in the future.
.