XIMB hosts Seminar on Higher Education at Cross Roads by Dr. Bala Balachandran
| August 19,2010 04:49 pm IST
Xavier Institute of Management, Bhubaneswar (XIMB), in association with Sri Sri University, hosted the first of the Sri Sri University Seminar Series talks today, with a seminar on 'Higher Education at Cross Roads – The Evolutionary Model' by Dr. Bala Balachandran, Padmashri winner and founding director of Great Lakes Institute, Chennai.
Other panelists included Dr. Akhila Srinivasan, MD, Shriram Life Insurance, part of the Rs.20000 Cr Shriram Group, and one of Business Today's top twenty-five female executives in the finance and financial services sector in India, and XIMB's very own Prof. D.V. Ramana, who is well known in accounting circles as well as the faculty community all over the country, for his methods and student connectivity.
The discussion opened with Prof. Ramana giving his insights about the future of education. "If you don't like the way the world is, you can change it", he said, "And the best way to change the world is through education, the larger the number of people – the better." He spoke of salvation being attained only if people care about and enrich others around them, leading by example, with countless social causes around XIMB and in Orissa.
Dr. Bala Balachandran, who was awarded the Padmashri in 2001 for his outstanding contribution to literature and education, and has been teaching at Northwestern University's Kellogg School of Management since 1973, started with the important question, "Where is education headed?" Dr. Bala, as he is fondly known, is a serial entrepreneur with several successful ventures under his belt, especially educational institutes that make a difference to the community and are relevant in today's world, and is also is the man behind creating the one year program for Business Management.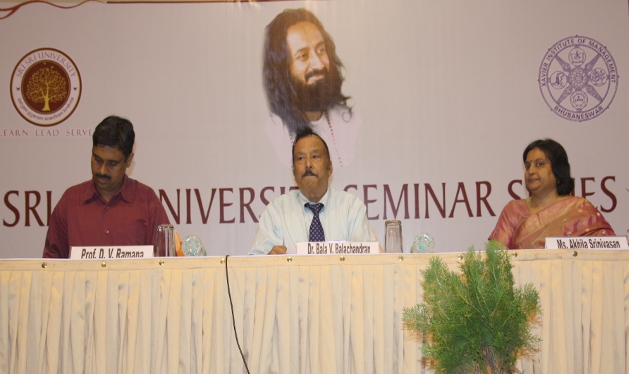 He was also given an $800,000 grant from the United Nations which he utilized for furthering his cause of creating more educational opportunities in India. He was of the opinion that, "We, as MBA students may take up salaried jobs after passing out but we must never let the fire of entrepreneurship go out. We must be wealth creators not wealth consumers. That is the only way we'll progress as a nation." Understanding globalization, injecting compassion along with passion, and incorporating transparency with integrity were just some of the things still in need of improvement in India, according to him.
In India, the Art of Living Foundation has pioneered the concept of value-based learning, through the Sri Sri Ravishankar Vidya Mandir (SSRVM) Trust, across 100 institutions ranging from Pre-primary to Professional Colleges in 16 States. In the words of His Holiness Sri Sri Ravi Shankar, education should give us 6 fold abilities: Information, Concepts, Attitude, Imagination, Freedom and Intuition. Interplay of these six abilities completes the cycle of knowledge. The Sri Sri University was set up as a natural extension of this phenomenon into the realms of higher education.
Concluded.
.