Synnovation 2013 - Symposium on fostering Innovation
Start Date:2013-03-03
End Date:2013-03-03
Event Type:Symposium
Venue:Lotus Business School, Near Saiexpressway Petrol Pump, Mumbai Pune Expressway, Punawale, Pune -411033
Contact:
Lets synnovate at Synnovation 2013 –Great Minds and People who appreciate Great Minds, an event you cannot afford to miss.

Mark your calendars for the first Sunday of the month of March (03/03/2013).
Eager to innovate, please contact:

Devang Joshi : +91 9545810810
Pankaj Deshpande: +91 9960519093
B-School Exams List: CMAT, MAT, MHCET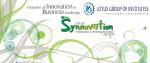 Event Details:
Synnovation 2013 - A sequel to Synnovation 2012. Practicing innovators would deliver discourses on the science behind innovation both theory and practice . These innovators would share life learned experiences on the practice of innovation. Synnovation 2013 where in actual innovators have been invited to enlighten the august audiences consisting of students in and out Pune and also nationally is expected to leave the participants spell bound.
Speakers @Synnovation 2013
Siddhesh Bhobe
Business Head - Persistent, CEO - eMee& CTO –Klisma
He is an Associate Vice President at Persistent Systems Limited, Pune, and hold an M.Tech degree in Computer Science and Engineering, with specialization in databases, from IIT Bombay.
As CEO for eMee, Persistent's unique game-based employee engagement platform, He is exploring the use of enterprise social networking in converting critical management functions into highly effective and enjoyable activities for line managers and believe this innovative approach can fundamentally change the way companies engage with their employees.
He is also responsible for the technology roadmap and overall direction on Klisma, an innovative "shopping experiences" offering for corporates and individuals in India!
He is also an avid blogger, love watching movies, and enjoy off-roading in his SUV.
Mr.Gangaram Talekar& Mr.Medge
Special Executive Officer, Dabbawalas of Mumbai
A small army of 'DABBAWALAS' picks up 200,000 lunches from homes and delivers them to harried students, managers and workers on every working day.
Working of NMTBSA
• Error Rate: 1 in 16 million transactions
• Six Sigma performance (99.999999)
• Technological Backup: Nil.
• Cost of service -Rs. 300/month ($ 6.00/month)
• Standard price for all (Weight, Distance, Space)
• Rs. 36 Cr. Turnover approx. [6000*12*5000=360000000 i.e. Rs. 36 crores p.a.]
• "No strike" record as each one a share holder
• Earnings -5000 to 6000 p.m.
• Diwali bonus: one month's from customers.
* Zero % fuel Zero % investment
*Zero % modern technology Zero % Disputes
*99.9999% performance 100 % Customer Satisfaction
Pawan Kumar Saini
Head Learning & Development
Praj Industries.
Pawan Kumar Saini, an engineer from College of Engineering Pune and a Post Graduate from Symbiosis International University has loads of experience and is currently working with Praj Industries. As a Head Learning & Development Pawan has it all to not only create a difference @ Praj but also to strengthen the need of cultivating a culture for innovation.
Prof. Dr. Brij Kothari
Founder CEO Planet read.com, SLS For Adult Education for Under privileged 
Dr. Brij Kothari (Cornell University) and his team have innovated, researched, and nationalized the use of "Same Language Subtitling" (SLS) on Bollywood film songs on TV, for mass literacy in India. He laid the foundation for the SLS project as an Associate Professor at the Indian Institute of Management, Ahmedabad (IIMA) in its Centre for Educational Innovation.
Brij is an Ashoka Fellow and the President of PlanetRead, a non-profit involved in scaling SLS efforts in India and other countries. He is also the CEO of BookBoxInc, a for-profit social venture producing children's animated stories in more than 25 languages. He co-founded PlanetRead.org and BookBox.com as a Reuters Digital Vision Fellow at Stanford University.
Brij Kothari was born to a business entrepreneur. His parents were particular about education and sent him to Sri Aurobindo International Centre of Education (SAICE) in Pondicherry. He is an alumnus of IIT Kanpur. and did his Ph.d from Cornell University. He is a Schwab Social Entrepreneur, an Ashoka Fellow and a Stanford/Reuters Digital Vision Fellow.
Hon. Vice Chancellor Prof. Gade University of Pune
Dr Wasudeo Namdeo Gade B.Sc. in Biology from Nagpur University, M.Sc. (Life Sciences), M.Phil.- Ph.D. in Life Sciences from the Jawaharlal Nehru University, New Delhi.