War on Waste - IIM Kozhikode to organize 4th edition of Calicut mini-Marathon on 24 Feb
Start Date:2013-02-24
End Date:2013-02-24
Event Type:Mini-Marathon
Venue:Indian Institute of Management, Kozhikode
Contact:
Contact No. - +91 8086550076
B-School Exams List: CAT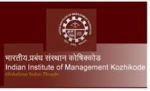 Event Details:
The Indian Institute of Management Kozhikode (IIMK), would be conducting the 4th edition of the Calicut mini Marathon on  February 24, 2013. The objective is to spread the message of a cleaner  Calicut, through its War on Waste campaign. IIMK is expecting a footfall  of around 8000 individuals on the day of the event.
 
IIMK Director Prof. Debashis Chatterjee says "IIMK takes a step forward by  highlighting an environmental concern on the existence of waste products,  hence organizing a mini marathon on the theme War on Waste. It is our  unique privilege to be a school of aspiration where new ideas take shape for  the betterment of India and the World."

In the run-up to the marathon, an Open Day for school students of classes 7  to 12 was conducted at the IIMK Campus on Sunday, February 3, 2013 between 10 am and 3 pm. In the event, a host of competitions like Quiz, Elocution,  Essay Writing and Painting were conducted based on topics related to this  year's theme War on Waste. The event witnessed teeming students of  Class VII to XII from schools in and around Calicut participating in  elocution, quiz and poster-making competitions based on the theme of  marathon.
The mini-marathon will be flagged off at 7:15 am from the Calicut Beach on Sunday, February 24rth, 2013.  The race-day will feature a 10-km professional run and a  3-km non-competitive Dream run featuring celebrities, citizens, women Self Help Groups/NGOs and college students showcasing their work on the theme War on  Waste along the mini-marathon route. Total prizes worth Rs. 2 lakhs are to be won.