I-Score: Excellence through Innovation
IMI Delhi is now on the verge of an educational innovation, which will not only ensure that better managers come out of the institution but also future leaders. IMI starting from academic session 2012-2014, will adopt a balance score card system called "I-Score".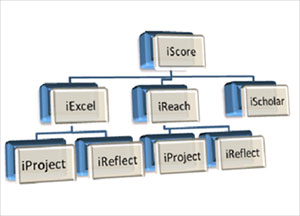 This system is will be a complete performance indicator of a student for two years at IMI. This will not only include academic performance but extracurricular activities and socially responsible behaviour will be given grades too.
Extracurricular activities will include events won or a high position obtained in b-school competitions at inter college level, building corporate relations, contributing to brand building activities and contribution towards society i.e. working with NGOs.

What is I-Score ?
I-scholar: CGPA component
I-reach: Social Responsibility component
I-excel: Extracurricular activities
When I perform within the purview of IMI…..I reflect.
When I perform outside the purview of IMI …..I project.
For me to excel and reach I need to project as well as reflect.
When I Reach and Excel….I-score.
I-Score is a result of 45 days of brainstorming between students and faculties, a discussion of what should be included and what not, how the evaluation can be done, how it can be implemented in a manner by which it amalgamates with culture of IMI , helps IMI produce better leaders for tomorrow.

But why I-Score?
Indian education system has stressed on academic excellence and other sides of life have always been neglected. A system like I-Score recognizes the extra effort an Individual does to participate in events and helping the society. It encourages students to have a more holistic vision towards education and life as a whole. It ensures that IMI produces world class leaders and not just MBA's which is the need of the hour.

How will it be implemented?
I-Score will be an add-on with the academic performance. The MBA degree will still be based on academic performance, so a person may even get a zero under I-Score and still pass out in two years. But it will act as the differentiator for a person when it comes to placements or summer internship interviews. It will also help the institute develop its brand image and building key corporate relations.

The final touches to I-Score in terms of weightages to be added on different levels of performance and to different activities are still under review and will be up and running with the 2012 academic session.

IMI is on the verge of a breakthrough innovation in education system, which can not only help improve standards of management education system but also can be extrapolated to schools and colleges which will help produce not just scholars but leaders for future.
Concluded.
.