"Dream Dare Do" at TEDx - IIM Ranchi
Start Date:2013-02-03
End Date:2013-02-03
Event Type:Annual TEDx event
Venue:Hotel Radisson Blu, Ranchi
Contact:
Hanu Prateek Kunduru 
Licensee and Curator
Phone : +91 89867 73281
Abhilasha Bhatt
Speakers Team Director
Phone : +91 95700 66880
tedx@iimranchi.ac.in
tedxiimranchi@googlegroups.com
B-School Exams List: CAT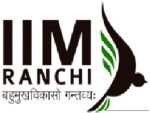 Event Details:
TED (Technology Entertainment and Design), founded in 1984, is a non-profit event devoted to Ideas worth spreading. It conducts global conferences with a scope much broader than Technology, Entertainment and Design. By doing so, TED provides a platform to inspire, transform and motivate a person, society or a nation. Many eminent speakerslike Bill Gates and Al Gore have already shared their ideas on the TED forum at different events around the world.
TEDx (x denoting an independently organized TED event) was created in the spirit of TED's mission, "Ideas worth Spreading." The program is designed to provide communities, organizations and individuals with an opportunity to stimulate dialogue through TED-like experiences at the local level. TEDx events are fully planned and coordinated independently, on a community-by-community basis.
In its quest for building a just and harmonious society and enhancing the national and global intellectual capital, IIMRanchi is consistently striving towards creation of an environment which is holistic in nature. Such an environment would further facilitatethe germination of creative and unique ideas, perspectives and insights.It is only through this spirit of collaboration and collective visualizations, will we be able to succeed in establishing a salubrious business, social and economic environment. This event is a significant step towards attainment of this vision.
Dreams are the passion of the young and the ideal of the old. Dreaming about one's endeavor to bring a change leads to bigger ideas. But, it is only thosewho have the persistence and courage to advance confidently in the direction of their dreams scale great heights! Meaningful change can be brought about through the power of dreams. This power coupled with the indomitable spirit of 'Dare' and 'Do' leads to a change which can transforms lives. The theme of 'Dream, Dare and Do' revolves around driven individuals who have faced all odds to realize their vision in variety of fields.
TEDxIIMRanchi brings speakers from various fields viz. social activism, entrepreneurship, sports, media, arts, public administration etc. on a single platform. The event will be attended by numerous distinguished dignitaries. Apart from the live audience and dignitaries present, event will also be reaching out to thousands of people globally through a live webcast of the event.
Some of the prominent speakers who have confirmed their participation are AhdafSoueif- Egyptian novelist and Booker Prize nominee, Amitabh Choudhary- JSCA president, MalliMastanBabu - Guinness book record holder for climbing seven summits of the world, Anshu Gupta- 'Clothing Man' and founder of "Goonj", Faith Gonsalves- Founder of 'Music Basti'for street children, and Madhulika- Founder of innovative English teaching institution 'Adhya Educational Society'. List of speakers also comprises of personalitieslike Faking news creator Rahul Roushan, Freelance photographer and founder of 'Image Bazaar' SandeepMaheshwari, Founder of 'Highway Rescue Project' Dr. Subroto Das, and 'President's Role Model' award winner NavinGulia. Apart from them, Graphic novelist TejasMondak, Data analytics magnate R N Prasad and Founder of start-up 'Farms and Farmers' Manish Kumar will also be narrating their journey.
With a repertoire of talented speakers, the event is all set to add new feather in the crown of IIM Ranchi. Talks of such vibrant speakers are expected to yield constructive and feasible solutions to some of the confounding challenges of current times.
Detailed profiles of speakers are as follows:
1. Capt.NavinGulia- An injured and paralyzed soldier who went on to become an official motivational speaker of the Indian Army.

2.  Faith Gonsalves- A young and dynamic lady who proved that Music can bring about social change 
3.  Anshu Gupta-The 'Clothing Man' of India who revolutionized the system of charity and took it to a new level 
4.  Dr.Subroto Das-An accident victim who is the provider of the best known highway rescue operations in the country and someone who is certainly a God sent savior 
5. R.N.Prasad- India's product manager who institutionalized data analytics and sowed seeds for the growth of Big Data  
6.  Manish Kumar-An IIT Alumnus trying to maximize revenues of farmers by use of innovative ways of farming through his startup - Farms and Farmers 
7.  Madhulika- A Masters from Texas, Madhulika chalks out innovative ways to teach English to the underprivileged kids 
8.  AhdafSoueif- An Egyptian novelist who is a  Booker Prize nominee and a political and cultural commentator 
9.  MalliMastanBabu- An IIM-C graduate who  is the only Indian to have scaled the highest peaks in all the continents 
10. TejasModak-  A Graphic Novelist and  an expert in a unique art form  conveying stories  using sequential art 
11. SandeepMaheshwari-  A college dropout who started as a freelance photographer and went on to start "Images Bazaar" - World's #1 collection of Indian images and videos.

12. Rahul Roushan-Creator of Faking News that publishes fake news reports containing satire on politics and society of India. 
13. Amitabh Choudhary-A graduate of IIT Kharagpur, a top-cop, celebrated quiz master, a person who converted the moribund state cricket association into a pulsating effervescent new entity called the Jharkhand State Cricket Association.