MBA @ AIM, Manila
Start Date:2013-02-16
End Date:2013-02-16
Venue:Taj West End, Race course Road, Bangalore.
B-School Exams List: GMAT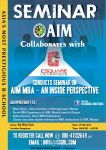 Event Details:
Hi,
Csquare Learnings collaborates with Asian Institute of Management, Philippines, to conduct a MBA seminar. Meet the AIM Dean, Professor, and alumni to know about the exciting journey at AIM, Philippines.
Call 080-41132649 to register
Session details;
Date:16th Feb, Saturday, 2013.      Time : 10:00 A.M.
Place : Taj West End, Race Course Road, Bangalore.