"Mridang 2013", Annual Cultural Festival of IIM Indore
Start Date:2013-02-23
End Date:2013-02-24
Event Type:Annual Cultural Festival
Venue:IIM Indore
Contact:
Indian Institute of Management Indore,
Prabandh Shikhar, Rau-Pithampur Road,
Indore, Madhya Pradesh-4533331

Kunal Shah
Coordinator
08878989555
mridang@iimidr.ac.in
B-School Exams List: CAT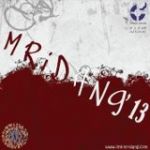 Event Details:
Since its inception, Mridang has grown to become the biggest cultural extravaganza of Central India. It is expected to generate footfalls of around 10000.
• Mridang is the ultimate instrument that symbolizes self-expression, raw energy and the power of human emotion through the medium of dance and fashion or social initiatives.
• It draws participation from participants across the B-school fraternity in India including premier institutes like NITIE, XIMB, Symbiosis, JBIMS etc. Colleges of Indore, Bhopal and other cities of Madhya Pradesh participate in huge numbers. It has always bemused the B-School fraternity by setting trends apart.
• It gets widespread coverage in national and local media through our media partners; Times of India is our English/print media partner.
• In the past, Mridang has hosted some very big names like rock sensation Parikrama, the star cast of movie 'Gulaal', Paresh Mokashi of 'Harishchandrachi Factory'-fame (Oscar-nominated movie of 2009)
Continuing with the legacy, Jagriti, the social sensitisation initiative, marked the commencement of Mridang.
Jagriti – Come, Let's Spread Awareness
Students from urban schools contribute a "handful of rice" and when the collection is complete, they visit rural schools to distribute the rice amassed. Jagriti also aims to promote cognizance about various topics of importance to school students such as career, personality, health and hygiene.
The Guinness Record
Thinking Big is a habit at IIM Indore. In the current context of brutal killings at LOC, IIM Indore students, by deciding to create a mosaic of nearly 5000 greeting cards during Mridang 2013, will pay homage to the brave soldiers of Indian Army. Also, it would be an attempt towards creating another Guinness world record.
Campus Events:
Participants from other IIMs, Top B-Schools, undergraduate institutes and Indore based colleges participate in our campus events that are to be held from 23rd-24th Feb.
A brief about the events is mentioned below:
1. Distortion - Rock bands from the country battle it out for 2 days and are judged by the professionals
2. Laavanya - The fashion show
3. Lasya - Choreo event
4. Swarathma – performance by an Indian folk-rock band from Bangalore
5. Dhwani - Solo singing competition
6. Bazinga – A party zone of the festival with several events in its kitty. Its structure is as follows:
Pre-Mridang Events:
a) Quiz and Poster Making Competition: It will be conducted in the schools during first week of Feb '13. Finals of both will be held in the campus during Mridang'13
b) Section Wars: It will start 3 days prior to Mridang. Finals will be held during Mridang'13
During Mridang:
a) Full day on the Spot Games: Arcade Gaming, adventure sports, pottery etc.
b) Events: School quiz finals, T shirt painting, face painting, wire art/junkyard, question of the hour, fun quiz etc.
c) Workshops: Pottery, Paper Mache, dance, face mask making, puppet making, local art
d) Hangout Spots: Bean bag lounge, rajasthani style, gaming