CoolAvenues.com MBA Placements Survey 2010: Limping Back to Normalcy
| May 31,2010 11:40 am IST
Spring of 2010 was expected to bring cheer back to Indian B-Schools with Indian Share moving to new heights, deal-street bubbling with action (or anticipation of it) and probably it did if one goes by the reports in main stream media.
After an hiatus of one year, headlines again started screaming of highest salary package of INR 2 Crore paid to graduates of Indian Ivy league institutes and it looked like that normal days are back again in B-Schools.
With latest press releases, B-School surveys chanting big guns are back, dream merchants / agents of some those 3000 odd MBA institutes who dare to think and try to sell these MBA dreams to those sleepy dreamy eyes from tie II & tier III cities, heaved sigh of relief and started dishing out the usual the great Indian Middle Class Escape degree called MBA.

However if one survives those verbose press releases with no data and all strategic guidance and media hype, Placements 2010 remained a stressed year, though much better than what we saw in 2009 but still nowhere near the glorious days of 2006 & 2007 or for that matter 2000.

So how did Placements 2010 panned out at IIMs and other MBA Institutes in India in year 2010!
CoolAvenues. com brings snapshots and highlights from the campuses about Placements 2010
Placements Weeks / Days / Cohorts or Some Other Name
The biggest change which was probably caused by Year 2009, was emergence of rolling system of placements at IIMs compared to slot based "Placement week system". Year 2009 saw Placements week becoming weeks and then months and then eventually became "Open till placed scenario" which led to overhauling of the system and IIMs decided to follow ISB (it has rolling placement system from the beginning) and foreign MBA Institutes (majority of Ivy league colleges abroad follow rolling placements system) and IIM Ahmadabad became first IIM to break the league and move to a cohort based system.
Placement weeks at IIMs was the hallmark of placements process at IIMs since their inception and it used to be one mega event where host of recruiters used to chase a bunch of students for certain position in a almost a auction based scenario where for once candidates wielded more power than recruiters. However all this came to an end when IIM Ahmadabad decided to move to cohort based system which was spread over weeks thus giving placement committee time to accommodate/chase more companies and at the same time providing companies ample time to access students. In a way it's a welcome change and its bound to improve quality for everybody concerned.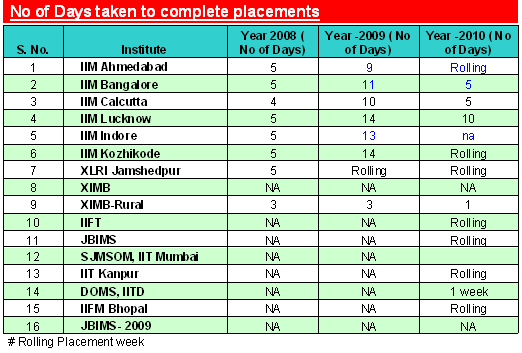 Changing Job Profile: Less Investment Banking / Consulting Jobs in Campus
Placements 2010 at IIMs saw significant jump in financial sector jobs compared to year 2009. In fact financial sector was major recruiter among all 16 MBA institutes covered by CoolAvenues.com survey with % of batch placed ranging from 24% to 47% ( at JBIMS, Mumbai) but surprisingly the campuses didn't see much activity from local brokerage houses or major Investment banking firms. Placement 2010 saw steep fall in offers made by leading Investment banking firms as well as by local brokerage forms. Financial sector was more led by commercial banking (where Yes bank was top recruiter). Another interesting fact is that in any of the IIMs not a single investment banking firm was top recruiter.
% of Batch Placed in Finance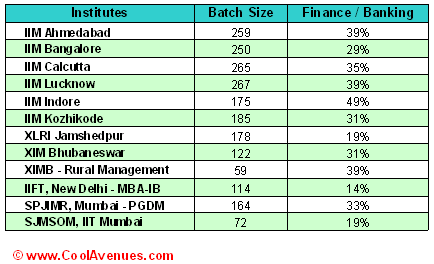 .