IIM Calcutta Emerges as Numero Uno in Placements 2009
| May 25,2010 12:04 pm IST
IIM Bangalore might have been "The Employers' choice" in Asia in recently conducted QA Global B-School ranking survey, however back home when it comes to placements, IIM Calcutta seems to be the choice of Indian and International recruiters.
IIM Calcutta has emerged as the numero uno business school in India as far as placements are concerned as per the latest CoolAvenues.
com Placements 2009 report.
The ongoing global financial meltdown which impacted Placements 2009 at Indian B-Schools severally saw IIM Calcutta weathering the storm in much better way compared to other institutes. IIM Calcutta which earlier used to suffer due to its comparatively bigger batch size, is now at par with other IIMs as far as the batch strength goes and hence used its past experience of placing large batches in a better way in these uncertain times.
Overall IIM Calcutta emerged as clear winner on following counts :
Placements Salary: Recruiters paid highest average salary to IIM Calcutta graduates among all B-Schools as average salary paid at IIMC was at INR 12.7 lakh in comparison to INR 12.17 lakh at IIMA and INR 12.12 lakh at XLRI, Jamshedpur. At the same time the highest salary paid to IIM Calcutta graduate was INR 60 lakh in comparison to INR 24 lakh paid to a IIM Kozhikode student.
In Overseas placements, IIM Calcutta again emerged as No. 1 institute with highest salary at USD 130,000 p.a. and average salary at USD 86.875 p.a while IIM Ahmedabad graduates were placed at an average salary of USD 83,000. IIM Ahmedabad chose not to release highest international salary.

Overseas Placements : 27 students at IIM Calcutta (10.2% of the batch ) bagged international offer compared to 23 international offers made at IIM Kozikode (12.4% of the batch), 15 offers at IIM Lucknow (5.6% of batch), 12 offers at IIM Indore ( 6.9% of the batch). Out of 27 job offers at IIM Calcutta, 17 offers were made in finance and 10 in consulting at locations like New York, London and Hongkong.
Interestingly IIM Ahmedabad and IIM Bangalore chose to remain silent on International placements with IIM Bangalore issuing cryptic press release talking about offers from " UAE Exchange (middle east) and Enzen". The press release from IIM Bangalore reads "The international offers continued to pour in on Slot One with companies like UAE Exchange, Enzen and others recruiting IIMB students for foreign postings."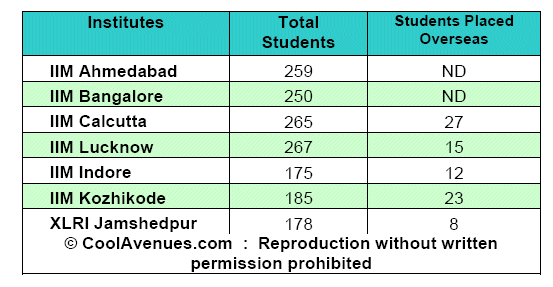 Overall IIM Calcutta emerged as clear winner in terms of no of offers made, quality of locations and overall job profiles given for international postings.
Pre-Placement Offers: Placements 2009 saw a significant drop in no of PPOs made in comparison to 2008 when it was literally raining PPOs at each campus. However despite such a overall doom and gllom scenario, IIM Calcutta graduates emerged on top with as many as 56 PPOs ( 21% of the batch) were given to IIMC graduates. IIMA and IIMB didn't provide any figure on PPOs this year while 11% of batch (21 PPOs) at IIM Kozhikode, 9% of the batch at IIM Lucknow and 7% of the batch at IIM Indore got PPOs. The only institutes which came ahead of IIMC in term of PPOs was XIMB where 27% of the batch was given PPOs by recruiters.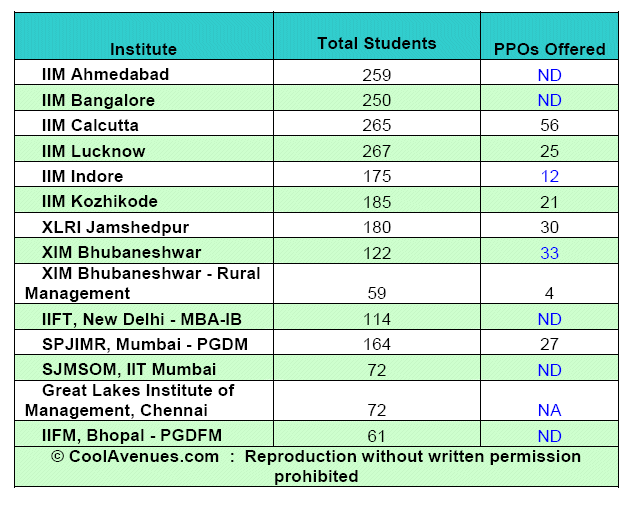 Executive One Year MBA Program : The one year full time executive MBA program which was emerging as most preferred MBA program for experienced professionals faced its toughest year with almost every institute yet to finish its placement program except IIM Calcutta. At the time of going to press, all leading executive MBA programs i.e ISB, Hyderabad, Great Lakes, IIMA PGPX, IIML IPMX etc are yet complete their placement process and had extended the process indefinitely. However IIM Calcutta PGPEX program emerged as clear winner where all 34 students who are part of placement process (Batch strength ~ 37) were placed with an average salary of INR 18 lak and highest salary of INR 22 lakh.
Overall Placements 2009 established position of IIM Calcutta as number one Management destination as far as placements are concerned which is one of the most important parameter used by MBA aspirants to select an institute. (c)
.