In times of Recession, IIMC PGPEX Graduate bags INR 35 lakh pa job offer
| May 25,2010 04:25 pm IST
IIM Calcutta's PGPEX (Post Graduate Programme for Executives) program seems to have beaten the ongoing recession blues by having an exceptional placements for its 2nd batch in these uncertain times where the highest salary touch a figure of INR 35 lakh p.a.
and average salary at 18 lakh p.a.
Though overall there has been fall in salary levels compared to last year but given the adverse economic environment in which the batch went into the job market, it was much better performance as every other school has been struggling to place its students .
This year the PGPEX programme introduced the option of 'deferred placements'. Using this, graduating students choosing to pursue entrepreneurial ventures were given the flexibility of availing placements services, should they need to, in any one of two subsequent batches of PGPEX programme. Two students availed this and have started ventures of their own.
One student chose not to participate in the programme and reverted to his parent organization.
Therefore, 34 out a batch of 37 students participated and all of whom have been successfully placed. Not only was the entire batch placed, despite very adverse economic circumstances, salaries, in comparison with the previous year, held up remarkably well.
There was a mere 10% drop in average salaries – it was Rs. 18 Lakhs this year, down from Rs. 20 Lakhs last year. The highest domestic salary, however, saw a steeper drop of 22.2% (falling to Rs. 35 Lakhs from Rs. 45 Lakhs last year). The global nature of the downturn got reflected in that there were no foreign placements as compared to 5 last year (See Table 1 below).


IIMC PGPEX PLACEMENTS
Even though job offers were fewer than last year they were much more diverse. Last year, about 53% of the jobs on offer were in the IT & ITES sector. This year IT & ITES accounted for only 22% job offers whereas Sales & Marketing accounted for another 22% (See Table 2 below). It is worth keeping in mind that almost 60% of the graduating batch was from IT & ITES sector.


IIMC PGPEX PLACEMENTS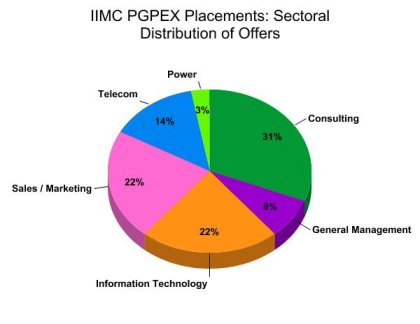 This suggests that job offerings in PGPEX placements allowed students leverage their past work experience and stay within the same sector or leverage the PGPEX programme to switch out of sectors they were in. The institute is particularly happy with this outcome because this is exactly the sort of flexibility that an MBA propgramme for executives ought to provide graduating students. All things considered, it was a very satisfying placement season for the programme and augurs well both for the incoming batch and the future.
A sample of firms that participated: -
Consulting: McKinsey & Co., Deloitte, IBM Consulting, PwC
IT: TCS, Tech Mahindra
Sales & Marketing: IBM
Telecom: Avaya, Tata Teleservices
General Management: ACC
.