DMS, IIT Delhi, Witnesses a Robust Placement Season
| May 11,2010 02:09 pm IST
The successful completion of placement season for batch of 2010 was a testimony to continued faith reposed by the corporate world in Department of Management Studies (DMS), IIT Delhi. The number of recruiters who participated in this year's placement stood at 42, a substantial increase from last year's 35.
The placement process saw top notch recruiters vying to hire talent that DMS has become synonymous with, offering coveted profiles in traditional as well as niche domains.
In addition to our long standing partners we saw a surge of new partners, which re-emphasizes the prolific rise that brand DMS has witnessed during the past few years by virtue of its exceptional academia, infrastructure, pedagogy and student quality. The end of the placement week saw jubilant DMS students well on their way to a sterling career path, with students getting as many as three offers from best of the pack recruiters.

Recruiters @ Placement '10
Industry heavy weights from sectors across the spectrum: Consulting, Banking, Analytics, Technology, Telecom, Infrastructure, FMCG and Retail continued their partnership with DMS. Amongst our major recruiters were Investment Banks such as Nomura, SBI Caps and JP Morgan Chase; top notch financial recruiters such as American Express, PricewaterhouseCoopers and Citibank; leading FMCG companies like Procter & Gamble, Reckitt Benckiser, Hindustan Coca Cola Beverages Private Limited, Marico and Johnson & Johnson; and industry conglomerates including RPG, General Electric (GE) amongst many others.
Aspirants in the consultancy domain saw a slew of offerings from prime firms such as Deloitte Consulting, Infosys, Cognizant Technology Solutions and IBM etal. In addition, the process saw several PSUs/PSBs such as SBI, BHEL, Shipping Corporation of India, Bank of India offering distinguished profiles. The placements week was preceded by laterals which saw 21 students being offered coveted profiles. Also worth noting is the fact that almost a quarter of the batch received PPO/PPIs in prominent firms.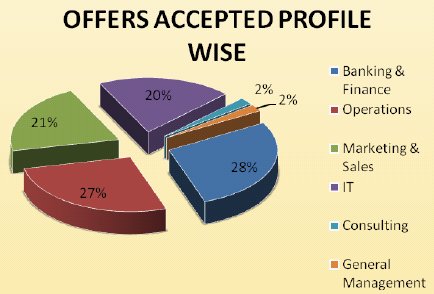 Profiles on Offer
It was placements galore for DMS as students across verticals received offers from several of the country's best recruiters. Our students have always being highly selective about work profile, which helps them sculpt the trailblazing career paths that DMS alumni have been famous for. This thirst for new challenges was more than quenched with our recruiters offering the very best of corporate profiles.
Banking & Finance
The finance sector witnessed a star studded placement season this year with major Investment banking, Commercial Banking, Asset management and Retail banking firms flocking to DMS. Highly coveted profiles were offered including Investment Banking, Treasury, Project Financing, Equity Research, Merger & Acquisition, Risk Management, Strategic Consulting, Capital Markets and Credit Rating. American Express and Citibank reaffirmed their strong relationship with our college with substantial intakes. First time recruiters Nomura and JP Morgan Chase recruited students offering their very best profiles. Vista Soft, SBI Caps, eClerx, Irevna, Synergy Consulting, BHEL, State Bank of India, Central Bank of India and Bank of India also offered several exciting profiles to our students. Fin-wizards from DMS thus had a field day, establishing the caliber and distinction that our students have come to be associated with.

Operations
Reiterating its position as one of the country's foremost in operations vertical, DMS students were once again offered the country's best profiles in the operations domain including Supply Chain Management, Logistics Management, Quality Management, Plant Management and Procurement Management.

Procter & Gamble led the placements in this vertical with DMS witnessing the highest intake across all B-school campuses in the country, a fact that asserts our edge. Reckitt Benckiser, Johnson & Johnson, Marico, RPG and Shipping Corporation of India also expressed deep interest in our college by recruiting students for exciting profiles. Bristlecone made its placement début at DMS this season.
.