DoMS IIT Roorkee Executive Placements 2011: Deloitte, Infosys, Accenture, Cognizant together made jaw dropping 30 offers
| May 04,2011 04:05 pm IST
The class of 2011 – Department of Management Studies, IIT Roorkee – consisted of 72 students, who come from diverse backgrounds, domiciles, work experience (ranging from 0 to over 8 years) and profiles – making it a batch of perfect assortment for MBA. 46 students were specialized in two streams and 26 in three streams, given the curriculum that mandates the students to specialize in at least two streams among Operations IT, Finance, and Marketing.
The final placement process for the class of 2011 has been a delight and has captured new level of vivacity among the students, faculty and the placement committee. The executive placement process this year has seen the participation of 20 companies of which 40% are new recruiters, resulting in 73 offers. Two students opted out of the placement process to pursue their entrepreneurial interests.
Fishing the candidates out of the DoMS pool by the business bigwigs has been done in huge numbers.
Deloitte, Infosys, Accenture, and Cognizant together offered a jaw dropping 30 offers that include profiles ranging from Risk Management, Consulting, Equity Research and GeneralManagement.
P&G, IBM, HCL, Irevna (CRISIL), Jubilant, Marketing Insights, Samtel, DSCL, TCS, UST, TNS Global, Dainik Bhaskar Group and AbsolutData etc., were from the private sector category and have offered the students an eclectic mix of profiles ranging from HR, market research, supply chain, product supply, corporate leadership, finance, equity research etc.

The public sector this time was represented by companies like BHEL, Bank of India, and Central Bank of India which also have recruited in big numbers. They offered profiles falling in Product Marketing, General Management, Human Resource and Corporate Finance.
These companies together gave 23 offers.
The profile mix has improved by a notch up and the compensation figures also have been on a consistent rise from the past years. The average domestic salary has taken a huge leap to 9.83 Lakhs which is a 15.6% rise from the previous year's figures. The median salary stood at 8.81 Lakhs and the highest compensation offered is 13.5 Lakhs.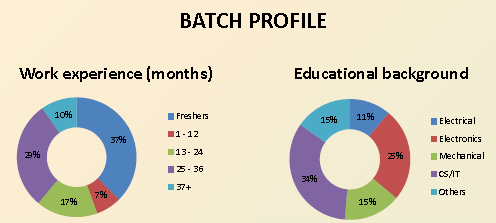 Specialization Number of students
Finance 43
Marketing 48
Operations 52
IT (Information Technology) 27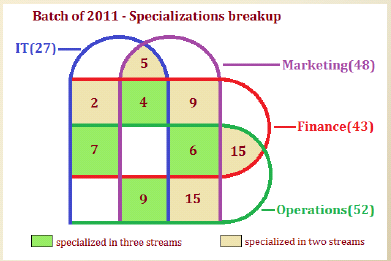 Consulting
Consulting, the flavor of the season which is a traditionally a sought after role, emerged as the preferred domain for more than one-fourth of the batch, with Deloitte Consulting and Infosys making 9 and 13 offers respectively. The regular recruiter of DoMS, Deloitte offered business consulting profiles in two of its verticals whereas Infosys, a leading service provider of technology, offered consulting for its product division. TCS and HCL Infosystems were some of the other major names that recruited DoMSonians for consulting across diverse verticals.
Finance
Reaffirming the strong business and finance knowledge of students of DoMS, Cognizant made its presence felt by recruiting the budding finance managers of DoMS in good numbers for the much reputed profile of Equity Research. Same profile was also offered by Irevna – a division of CRISIL Ltd. and also world's top-ranked research and analytical services off shoring firm. The much known PSU commercial banks, Bank of India and Central Bank of India also hired in
considerable numbers for FinancialManagement profiles

Marketing
DoMS, IIT Roorkee asserted its premier status in the marketing world. With 17% of the offers coming from top FMCG, Marketing and Market research organizations, the campus witnessed a large number of marketing firms. Procter & Gamble led the way in FMCG sector while the other key recruiters in Marketing Research profile include TNS Global, AbsolutData, and Marketing Insights etc. Sales and marketing profiles were offered by other companies like Universal System Technologies (UST), Minerals & Metals Trading Corporation of India (MMTC), and Samtel Group etc.
General Management and HR
BHEL, a Navaratna PSU and a regular recruiter from DoMS, reconfirmed their strong relation by making highest number of offers this year. Accenture and Dainik Bhaskar Group joined the suit in rolling out challenging profiles in General Management, Human Resource Management Corporate Leadership, Planning & Development and Business Consulting Profiles.

Operations
DCM Shriram Consolidated Ltd. (DSCL), one of the prominent industry heavyweights offered Supply Chain profile to the upcoming managers of DoMS, IITR. The same profile was also offered by Jubilant Life Sciences Ltd, the largest Custom Research and Manufacturing Services (CRAMS) player and a leading Drug Discovery and Development Solution (DDDS) provider of India.
Concluded.
.