Economic slowdown fails to slow placements at JBIMS: Highest Package offered Rs.24 lacs
| March 14,2012 04:55 pm IST
Jamnalal Bajaj Institute of Management Studies has proved this yet again. In spite of a difficult economic scenario, JBIMS has successfully completed yet another remarkable Placement Season.
The gloom that was brought down upon by the economic slowdown was lifted by the stellar performance of the students. The talent, hard work and perseverance of the students, honed significantly by the excellent faculty at JBIMS proved to be the guiding beacon in the dark. It is a matter of great pride that JBIMS has not only survived the downturn but has only come out stronger.

In such tough times, the placements at JBIMS have definitely been better than anticipated. JBIMS has not only completed 100% placements but has also achieved the following:
Total Number of Students : 118
Number of Registered Companies: 95
Number of Participating Companies : 86
Number of First Time Recruiters: 22
Average Domestic Salary: INR 14.9 lakhs
Highest Domestic Salary: INR 24 lakhs

The Batch of 2012 is a diverse mix with 25% of the batch comprising of females. Students come from varied backgrounds such as Engineering, Medicine & Pharma, Commerce, Arts and Humanities. The level of work experience also ranges from 0 to 5 years.

Overview
While sectors such as BFSI, FMCG, and Pharma remained favourites among the students, there was also a good presence of Consulting & IT, Telecom & Media and Manufacturing companies. The Placement Season also saw the emergence of new sectors such as Renewable Energy, HR Consulting, S-Commerce and E-Commerce. Standard Chartered Bank, ICICI Bank and YES Bank were the top recruiters on the campus. Apart from the regular recruiters that visit JBIMS for recruitment every year, this year witnessed the addition of coveted companies such as Barclays Capital, Johnson & Johnson Consumer, PepsiCo, Accenture Management Consulting and Hindustan Coca Cola Beverages.

Mr. Debayan Biswas, part of Human Resources at J&J Consumer says, Visiting JB after a hiatus was a big step forward for us, and we were not disappointed at all. The energy, enthusiasm and solid functional understanding shown by the students at Bajaj was particularly impressive. What we liked best here was that students were extremely grounded despite being very smart. A special note of thanks to the Placement Committee for managing the show smoothly behind the scenes. We had a great experience on campus and would surely like to come back again next year. Look forward to having an engaging and long-lasting relationship with JBIMS.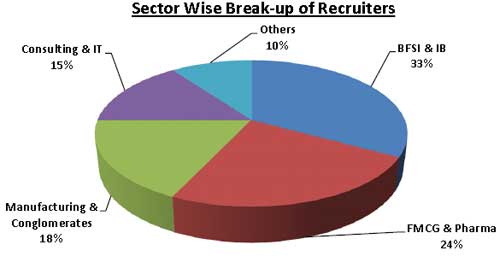 Trends this Year
Fostering New Ties
JBIMS always looks forward to fostering new ties with the industry. Like every year, this season also saw a first-time association with coveted organizations such as Google, Aditya Birla Group, Amazon and Michael Page International. Some of the other esteemed organizations that participated in the process include HDFC Standard Life, Aircel, Pidilite, Goodyear, Nerolac Paints, Timesgroup, Gadhia Solar, Manipal Group, and GTT Connect.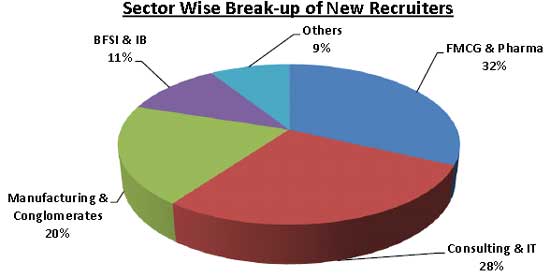 The Pre-Placement Offers
Placement Season 2012 has been marked by a significant number of Pre-Placement Offers being made by companies. 23% of the batch has been offered PPOs from companies such as Hindustan Unilever Limited, Procter & Gamble, Colgate Palmolive, ITC, Citibank, JP Morgan Chase, Nomura, Axis Bank, Tata Motors, Johnson & Johnson Pharma, Cummins, AstraZeneca and Tata Capital.

BFSI & IB
JBIMS is distinguished for its strong alumni network, eminent faculty, good industry relations, and its strategic location. JBIMS could leverage on these factors and in spite of the current financial downturn top banks and financial institutions continued their strong relationship with JBIMS.
Consumer Banking and Wholesale Banking were offered by Citibank, HSBC and Standard Chartered Bank. Also, front end Investment Banking role was offered by Barclays Capital. ICICI Bank, Axis Bank, YES Bank, Indiabulls and L&T Finance offered profiles such as Investment Banking, Structured Finance, Project Finance, Treasury, Corporate Banking, and Risk Management. Apart from the regular profiles, India Infoline and HDFC Standard Life offered Corporate Strategy Profile and Debt Capital Markets profile was offered by SBI Capital. Also, Bloomberg offered international profiles.

FMCG & PHARMA
Regular recruiters again showed faith in the talent of JBIMS. Students bagged coveted profiles such as Branding, Marketing, Brand Manager and Sales & Marketing in FMCG sector with companies such as HUL, P&G, Colgate Palmolive, J&J Consumer, ITC, Hindustan Coca-Cola Beverages, Britannia and Pidilite. Apart from the regular profiles, UB group also offered profiles such as Supply Chain Management and Branding in Emerging Markets.

A renewed interest was shown by students in the Pharmaceutical sector, the major recruiters from this sector being Johnson & Johnson Pharma, Abbott, Pfizer and AstraZeneca.

CONSULTING & IT
McKinsey & Company continued its trend of recruiting from Jamnalal Bajaj Institute of Management Studies allured by few of the brightest minds of the country. Other Consulting firms that offered roles were Accenture Management Consulting, KPMG, PricewaterhouseCoopers, Michael Page International and Jones Lang LaSalle. For the first time, Maritime & Shipbuilding consulting was offered by i-Maritime Consultancy.

Google showed keen interest in associating with JBIMS and offered profiles in Sales domain. HUL and Reliance Industries Limited, for the first time offered IT profiles including as IT Manager and IT Service Quality Manager. IT Giants such as Tata Consultancy Services HCL Technologies, Infosys, Wipro, Accenture Technologies and MphasiS offered various profiles such as Global Consulting Practices and IT Advisory roles.

Ravi Bansal, placed with a leading Consulting firm says, At the start of the placement season, the economic scenario was not looking as promising as last year but almost all students received very good offers and a variety of profiles to choose from. I was always passionate about consulting and it was a dream come true for me. I am sure I will be able to apply my learning from JBIMS in such an esteemed organization.

MANUFACTURING & CONGLOMERATES
Various Business groups such as RIL, General Electric, Mahindra & Mahindra, Raymond, Reliance Power, Tata Motors, Shree Renuka Sugars Limited and Tata Steel offered various profiles in General Management, Strategy, Corporate Finance and Marketing. Also, international profiles were offered by Jumbo Electronics.

Some of the Key Recruiters in each Sector were:
.