IIM A releases CRISIL Audited PGP Summer Placement Report
| January 05,2012 03:37 pm IST
The Summer Placements process of the flagship Post Graduate Programme (PGP) in Management at IIM Ahmedabad for the Class of 2012 was conducted in Nov 2011. About 110 firms across diverse sectors such as Banking, Financial Services and Insurance (BFSI), Consumer Goods (FMCG), Consulting, Information Technology (IT), Engineering, Energy, Telecom, Real Estate, Online Services recruited students for the internship period in April-June, 2012.
Overview across Sectors
Despite fears of an ancertain economic environment, the Banking, Financial Services and Insurance (BFSI) sector hired in large numbers. Almost 30% of students were recruited by firms from the sector to work during the summer. Major recruiters included Royal bank of Scotland, Citigroup, HSBC, Morgan Stanley and Goldman Sachs.
Around 20% of the batch would be interning in the Consulting domain. Major consulting firms hired in large numbers during Cluster 1. The Boston Consulting Group and Accenture made the highest number of offers while McKinsey, Bain also hired in significant numbers.
Consumer goods (FMCG), Information Technology, Manufacturing, Online services and Pharmaceutical firms also hired significant number of students. Regular recruiters like HUL, P&G, Microsoft, Reliance Industries Ltd, Tata Steel and Amazon renewed their commitment to the campus. This year, there was an increased presence of the pharmaceutical sector, with participation from first time recruiters like Abbott, Novartis along with recruiters like GSK Pharma and Astra Zeneca.
Overview across Functions
Finance and Marketing/Sales were the most popular areas offered to students with almost 29% and 25% of the batch opting for internship in these functions respectively. Consulting roles were offered to almost 22% of the batch. Apart from investment banks, consumer banks and venture capital firms, this year corporate finance role were also offered by companies like HUL, P&G and Airtel. New recruiters in the technology and e-commerce space, like Google, Groupon and Cleartrip offered sales and marketing roles to students. Regular recruiters like Tata Administrative Services, Aditya Birla Group and Mahindra Group recruited students for general management roles.
New Recruiters
Apart from the presence of regular recruiters, this year IIM A saw a number of new recruiters participate in the summer placement process. Daiwa Securities, a part of the Japanese conglomerate, visited the campus. Google, a regular recruiter in the final placement process, hired students for their internship program for the first time. Technology majors like HP, Oracle and SAP hired interns for marketing and corporate strategy roles. Agneya Carbon Ventures, started last year by IIM A alumni, also visited the campus to hire interns.
IIM Ahmedabad has always encouraged students to take the unconventional path. This year again saw a sizable number of students take up internships at the Office of Dr. A. P. J Abdul Kalam and the National Innovation Foundation in pursuit of taking on newer challenges.
With the prospect of a global economic downturn, the fact that IIM A was able to secure quality internships for all our students showcases the confidence that recruiters place in our students and the placement process at IIMA.
Placement Report
IIM A has prepared the placement report as per the Indian Placement Reporting Standards. The detailed report, which has been audited by CRISIL, is presented hereafter.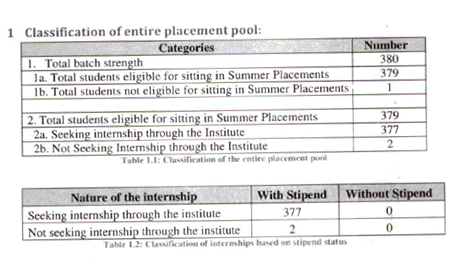 .