IIM Calcutta Final Placements 2012: 28.53% Finance offers reaffirms its faith as finance campus
| April 09,2012 06:50 pm IST
IIM Calcuttas final placement process for the batch of 2010-2012, kicked off on 20th February 2012 and concluded by 23rd February 2012. The process was conducted in slots, with each slot lasting two days.
Slot-0 took place on the 20th and 21st of February and Slot-1 on the 22nd and 23rd of February 2012. The process concluded by the end of slot 1, with all of the 352 students who sat for the placement process receiving job offers by the end of the fourth day. Also, the lateral placement process began in the first week of January and continued till the third week of February.

Sector-Wise Information
Even in these tough economic conditions, IIM Calcutta re-affirms its status as the Finance Campus of the country with Finance contributing the largest number of offers (28.53%). Also, Consulting companies made a significant portion of the pie with 26.80% of the offers. This was closely followed by Sales and Marketing (22.48%) and General Management (8.93%).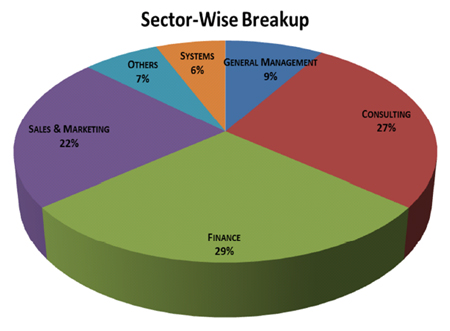 To give a sense of the offers made to the students at IIM Calcutta, the Slot 0 finance firms compensation generally comprised of a fixed component ranging from INR 30-40 Lakhs for Indian locations and INR 40-60 Lakhs for foreign locations; and a bonus component ranging from 100% to 200%. Slot 0 consulting firms offered around INR 20-25 Lakhs as base package plus bonus component for Indian locations. Slot 0 marketing companies offered in the range INR 15-20 Lakhs for Indian locations. Students at IIM Calcutta were also recruited for senior positions directly owing to relevant prior work experience and are offered commensurate packages.
Lateral Placements
The lateral placement process is for students with considerable work-experience, where candidates are offered roles depending upon the nature and duration of their work-ex. During the laterals process, candidates are allowed to negotiate the nature of their roles and their packages with the firm, as opposed to final placements where firms hire for specific positions. In this way, the laterals process allows candidates to design their own roles and responsibilities, and ensures a perfect fit between the candidate and the job.

This year, the laterals process began in the first week of January and continued till the third week of >February. The minimum amount of work-ex required to be eligible for the laterals process was set at >10 months and 208 out of the 352-strong batch were eligible for the process. More than 55 firms visited the campus during the laterals process and 130 offers were made at the end of the laterals process. Regular recruiters like Accenture Management Consulting, Amazon, Microsoft, Google, and Shell among others made offers across diverse profiles. The highlight of the Lateral Placements was participation from 15 new recruiters, including a Sovereign Wealth Fund which recruited exclusively from IIM Calcutta.

Infosys made 5 international offers (US and London offices) for its Global Sales team. Microsoft has made the largest number of offers to candidates at IIM-C. The company recruited nine people, across three different profiles- Microsoft IT, India Development Centre (IDC) and Microsoft Finance.
Internet and e-commerce companies like Snapdeal, Zynga, Jabong, Flipkart and Amazon have also recruited candidates in large numbers. General Management roles were offered by corporate houses such as Aditya Birla Group, Hinduja, Adani Group, Punj Lloyd, Bosch, and Ericsson among others for their leadership roles. Offers were made in the consulting domain by firms such as Deloitte, Accenture, Capgemini, CTS, PwC, and BMGI among others which recruited students for senior positions such as Consultant/Senior Consultant.

Google offered diverse profiles like industry manager, account manager and account strategist at IIM-C this year. Amazon offered 10 profiles at IIM-C, which includes job profiles such as business development manager, operations manager, Pathways and BOLD programmes. Apart from this, some of the most unique roles were offered to the students of IIM Calcutta. One of the students would be joining as the Head of India Retail Operations for a luxury apparel brand. Another student would be joining as the Assistant Vice President of Sales with Genpact.

The laterals process this year at IIM Calcutta was extremely successful and enabled us to start the final placement process with 130 laterals offers and 95 PPOs, which amounted to a total of 225 offers already in hand.
Final Placements
IIM Calcutta had already received 95 pre-placement offers which the students had received due to their performance during their summer internships. This, along with 130 lateral offers, gave a big cushion before going into the final placements.

Although the final placements were set to happen over five days (February 20 to February 23), the entire batch got placed by 4th day evening in an unprecedented development. The diversity of roles at offer this year is a unique feature of the placement process at IIM Calcutta. Given the wide array of choices, students could pick the exact roles they were interested in, thus moving out of the process with the ideal jobs in hand. This, we consider to be the most important aspect of this years placement process, and our greatest success.

Despite the slowdown in the finance sector, IIM Calcutta maintained its position as the finance campus of the country. Offers were made across the major financial hubs of the world including New York, Zurich, Hong Kong, London, and Singapore among others.

Students had already received PPOs from firms like UBS, Goldman Sachs, JPMorgan Chase, Morgan Stanley, Barclays Capital, Royal Bank of Scotland, HSBC Global Markets, Rothschild, Credit Suisse, and Nomura among others. Also, PPOs were given by Private Equity firms like Jacob Ballas and Clearwater Capital.

Zurich Financial Services, a major financial services group, recruited exclusively from IIM Calcutta (first time from any B-school in Asia) for its Zurich and New York offices. Bank of America Merrill Lynch hired exclusively for an international finance profile based out of Hong Kong. Capital One made an international offer for its Dallas (Texas) office.

Other major recruiters in the finance domain included Goldman Sachs and Deutsche Bank. Among Indian investment banks, Edelweiss recruited from IIM Calcutta for its trading role. Banks like Development Bank of Singapore, ICICI Bank, HDFC Bank and Yes Bank recruited for their corporate banking and treasury divisions. Diverse roles were offered in the finance domain by companies like Ocwen Financial Corporation, JM Financial, RBI, CRISIL, UAE Exchange, American Express and IFMR Capital.

In line with expectations, all the major consulting companies were on campus recruiting in big numbers. BCG, McKinsey, Bain, A.T. Kearney, Accenture among others made significant number of offers at IIM Calcutta. IBM Consulting participated in the final placements for the first time. Other recruiters in this sector included Opera Solutions and KPMG.
.