IIM Kashipur concludes Summer Placements 2012: Finance Sector recruits 11 students
| March 28,2012 10:48 am IST
Indian Institute of Management, Kashipur, successfully concluded the Summer Placement process for its first batch. The batch of 37 students got 43 offers from 28 companies across diverse sectors, profiles and geographies.
The maximum number of offers was made by Tata Motors.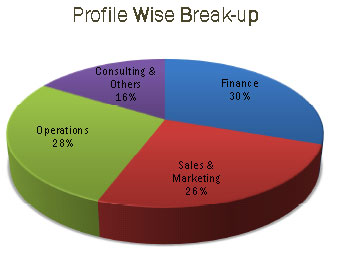 Sector Wise Break-up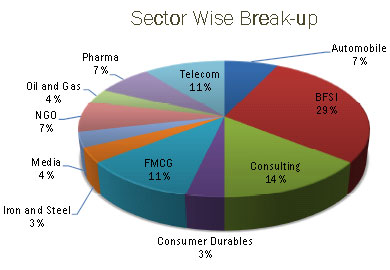 Finance
Finance emerged as the most sought after area with 30% of the batch opting for it. Diverse profiles were offered in the areas of Asset Management, Risk Management, Commodity Markets, Forex, Trade Finance, Business Intelligence, Financial Modelling, Project Advisory and Structured Finance by reputed firms like HDFC, ICICI Bank, ICICI Lombard, IDBI Bank, IDBI Capital, RBI, Religare and SBI Capital.
Operations
The second most preferred area for summer internship was Operations with 28% of the batch opting for it. The major recruiters in this area were Cadila, Perfetti van Melle, Tata Motors, Tata Steel, which offered profiles in supply chain consulting, quality management, kaizen, materials requirement planning apart from conventional profiles in operations management. Sales and Marketing 26% of the students opted for this domain. The profiles offered were Rural Marketing, B2B, Product Development, Market Research, Social Media Marketing, Retail Marketing amongst many others. The major recruiters in this area were Aircel, Airtel, Dabur, Hero MotoCorp, Jubilant Industries, Tata Communications and Voltas.

Consulting and Others
16% students opted for profiles in the areas of consulting, general management and Social Development. The major firms included E&Y, Teach for India, Institute of Rural Research and Development which offered profiles in the areas of Due Diligence, expansion strategy, NGO management and consulting.
List of Recruiters
Aircel
IDBI Capital
Special Situation Advisors
Airtel
IGSA
Tata Communications
Cadila
IOCL
Tata Motors
Dabur
IRRAD
Tata Steel
E&Y
Jubilant Chemicals
TechShot Digital
HDFC
Pan Parag
Teach For India
Hero MotoCorp
Perfetti Van Melle
Voltas
ICICI Bank
RBI
Zoya Industries
ICICI Lombard
Religare
IDBI Bank
SBI Capital
Concluded.
.