IIM Raipur concludes Summer Placements for second batch: Highest Stipend offered Rs 1.40 lac
| April 03,2012 02:37 pm IST
Indian Institute of Management Raipur is proud to announce the successful completion of its Summer Placements Process for the second batch (2011-2013) of its flagship Post Graduate Programme in Management. IIM Raipur continued to receive an overwhelming support from the industry, corporate, consulting firms and government organizations with a huge number of offers for the batch comprised of 48 students.
Apart from the traditional roles on offer for summer internships at B Schools, the students have also been offered internship projects with NGOs and PSUs.

A total of 76 offers were made by 41 companies for the 48 students. Continuing with the success of the pioneer batch in summer internship placements last year, the average stipend received this year was Rs 53,000. The highest domestic stipend offered was Rs 1,40,000.

The candidate to company ratio stands at 1.17 which shows the large number of companies to choose from for the candidates for their internship opportunities. The number of offers received per student was 1.58. The average stipend of the top twenty percentile students is Rs 1,10,000.
The largest recruiters include market leaders in various sectors. Several niche profiles such as new product launch, business development of product in European markets, Sustainability Consulting etc. were offered to the students who drew some impressive comments from most of the interview panelists.

Sectors
Offers were made by companies from various sectors such as Engineering, Pharma, IT, Automobile, Oil Gas & Petroleum, Banking and Finance, and FMCG.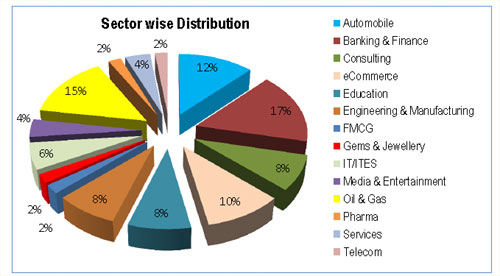 Oil and Gas sector made the maximum number of offers which was closely followed by Banking & Finance and Automobile sectors.

Profiles
Marketing was the most preferred profile by the students that accounted to 40% of the total offers. Finance accounted to 23% of the total offers followed by operations with 17%. 14% and 4% of students were offered Strategy and Consulting roles respectively.
Sales and Marketing
The major profiles offered in this domain include Market Research, Digital Marketing and B2B marketing along with the traditionally significant Sales and Marketing roles.

This domain witnessed several niche profiles such as new product launch, pricing strategy etc. In addition to these, several offers were made in the domain of internet marketing and E-Commerce.
Some of the major firms which participated in the process include PepsiCo, Tata Motors, Berger Paints, J Walter Thompson, BPCL, Vodafone, Rediff, Sanofi Aventis and Edunirvana.

Banking and Finance
Major profiles offered to our students in Finance were Financial Planning, Treasury Management, Corporate Banking and Equity Research. Some companies also offered financial consulting profiles.
Companies which participated in the process in this domain include CITI Bank, Securities and Exchange Board of India (SEBI), ICICI Bank, Bajaj Capital, NSE, Bank of Baroda, ONGC and Fino.

Consulting and Strategy
Continuing the trend of last year, IIM Raipur again witnessed the presence of consulting giants such as Ernst & Young and KPMG. Major profiles offered in this domain include Business development in emerging and European markets, new product launch etc. Sustainability Consulting was a niche role offered by an International firm in the energy domain.

Some of the other firms which participated in the process include Actuate Business Consulting, Aegis Consulting and Sanofi Aventis.

Operations, IT and General Management
Operations and General Management profiles were offered by several manufacturing and automobiles market leaders. These include organizations such as JSPL and ONGC which were among the largest recruiters with four offers each.

Some of the other organizations which participated in the process include Hero Moto Corp, Maruti Suzuki India Limited, Indofil Chemicals, Symphony Services, Globals Inc, NIIT and Triton Group.
A Snapshot of Summer Internship 2012
Average stipend of Rs 53,000.
Students were offered several niche profiles such as new product launch strategy and business development in European Market.
Number of offers per student is 1.58
Candidate to Number of Companies ratio is 1.17
Participation of companies from 14 different sectors
.