IIM Raipur Summer Placements 2011: 20 Students to intern with State Government
| April 28,2011 02:05 pm IST
Indian Institute of Management (IIM) Raipur is one among the new IIMs established by the Government of India in the academic year 2010. As a part of the summer internship programme, students are required to undergo an internship for 2 months starting from 18th April 2011.
IIM Raipur has received tremendous support from the industry, corporate, consulting firms and government organizations.
A total of 100 offers are received from 40 organizations spread across India and overseas. Besides being offered projects by top industries, corporate and consulting firms, the students of IIM Raipur have also been offered internship projects with the Government of Chhattisgarh.
Batch Profile
• Total batch strength: 69
• Average work experience: 18 months
• Engineering background: 89 per cent
• Non-engineering background: 11 per cent (Medicine, Fashion Technology and Science & Commerce)
Sector-wise Information
Twenty of IIM Raipur students will be doing summer internships in the areas of Public Distribution System, Health Sector, Finance Department, Communication department and Tourism department with State Government of Chhattisgarh.
These projects were identified after a brainstorming session in a workshop on 'How IIM Raipur can play an effective role in the overall growth of Chhattisgarh' conducted by the Chief Secretary, Government of Chhattisgarh and Director, IIM Raipur. The workshop was attended by the Principal Secretaries, Secretaries and MDs of State owned enterprises and students of IIM Raipur.
Forty-nine students are doing summer internships in top industries, corporate and consulting firms.
Sector-wise breakup:
Finance & Banking: HSBC, ICICI, Standard Chartered, YES Bank, Indcap Advisors,
CRISIL, SIDBI, NABARD, India Infoline, Punjab National Bank
Automobiles: Daimler, TATA Motors, Maruti Suzuki, Hero Honda, Ashok Leyland
Oil & Gas: BPCL and HPCL.
Consultancy: Ernst &Young, I-Maritime Consultancy, KPMG.
Pharmaceuticals: Fresenius Kabi
Power and Minerals: Reliance Power, NHPC, MMTC, Power Grid Corporation
State Government: PDS, Health, Finance, Communication and Tourism
Telecom: Vodafone
Others: Globals Inc., Oxfam International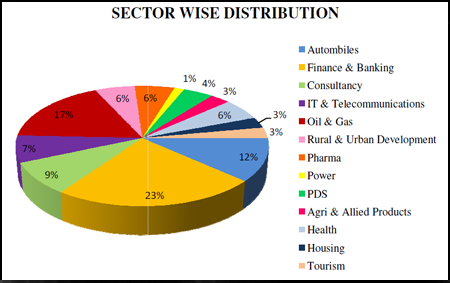 Profile
Marketing was the most preferred profile by the students on campus with 48% of the total offers made belonging to the marketing sector. This was followed by finance which accounted for 25% of the offers, followed by operations with 17% of the total offers were made for the profile of project management and general management, and 2% for CSR and 1% for HR profiles. In marketing, the major profiles offered were strategy development, B2B marketing, market research and sales and marketing. In finance, the major profiles offered to IIM Raipur students were Management, Equity Research, Strategic Costing and Credit Rating.
Keeping in line with the latest developments and trends of the Indian industry, IIM Raipur is one of the few institutions attracting a medico-pharmacy-nutrition company to campus. In addition to this, one candidate has also been offered an internship in field of supply chain management in the Prime Minister Gram Sadak Yojna (PMGSY) in the north eastern region.
Many companies also expanded their planned intake to include students from IIM Raipur as a part of their internship programs.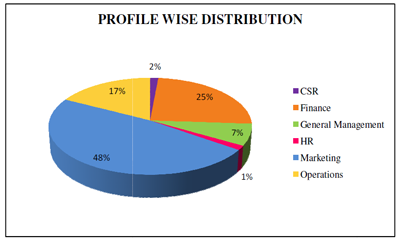 A Snapshot of the Summer Internships 2011:
• 20 students interning with the State Government of Chhattisgarh as Consultants on Niche projects- a unique initiative.
• Average stipend of Rs. 40,000
• Ernst & Young offered an international posting
• HPCL offered a CSR profile
Concluded.
.