IMI Delhi Placements 2012 buck slowdown effect, Places 27% of batch in BFSI - JP Morgan, ICICI, HSBC etc
| June 01,2012 11:28 am IST
The end of 2011 and the beginning of 2012 were marked by a sluggish economy and a slowdown in hiring across most industries. Despite these obstacles, IMI was able to conduct a largely successful final placement season.
49 companies descended on campus to hire a batch of 152. 115 of these students were from the PGDM program and 37 were from PGDHRM, IMIs dedicated HR program.
PGDM Placements
A large chunk of the recruitment was in the BFSI space (27%). Prominent recruiters from this sector were HSBC Bank, JP Morgan Chase, ICICI Bank, Axis Bank, IDBI Bank etc. The profiles offered varied across the finance, marketing and operations specializations. Some of these profiles were: Treasury, Corporate Banking, Wealth Management, Asset Management, Financial Analyst, Operations Analyst, Relationship Management etc. Companies like Ranbaxy Laboratories, Asian Paints and Infosys BPO also offered finance profiles.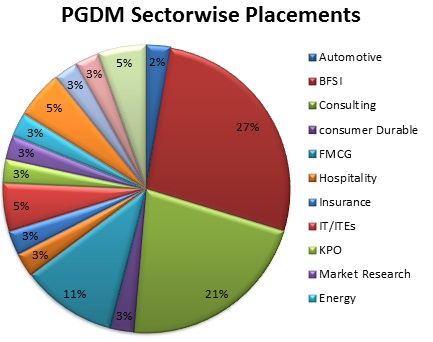 The next highest recruitment was in the Consulting space (21%). Prominent recruiters were Deloitte Consulting, Barclays Shared Services, EXL Services etc. Regular recruiters like AT Kearney, Ernst & Young GSS, Infosys Technologies and Axis Risk Consulting re-affirmed their faith in IMI despite the general gloom in the economy.
Among first-time recruiters for PGDM were ADM, Bharti Realty, Capgemini, ITC Hotels and Michael Page International offering exciting profiles to students across specializations.
The budding marketers of IMI were able to bag opportunities in companies like Asian Paints, UB Group, Jumbo Electronics, MakeMyTrip ,Maruti Suzuki India Ltd, Ruchi Soya Industries Ltd etc.
The goal was to have a basket of companies offering the best fit for the diverse specialization mix that was the batch of 2012, and to match expectations regarding role as well as compensation. In the end, IMI was largely successful in achieving that goal.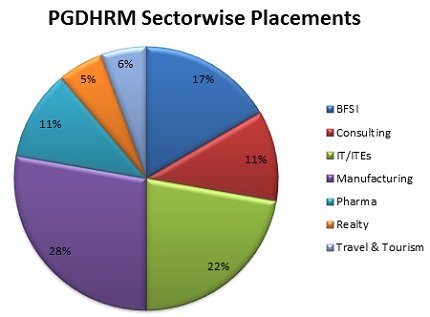 PGDHRM Placements
The placement season for the batch of 2012 confirmed the growing stature of IMIs dedicated HR program across the industry. For the batch of 37, some of the recruiters were RPG Group, RP-SG Group, Deloitte Consulting, Ranbaxy Laboratories, MakeMyTrip , Hero Motocorp, ICICI bank, Infosys Technologies, MB Informatics ,Wipro BPO etc. Students accepted PPOs from organizations like Maruti Suzuki India Ltd. and Noam Consulting.
Among new recruiters were Fresenius Kabi Oncology Ltd, KRIBHCO and Bharti Reality Holdings Ltd.

Compensation
Below are some of the highlights vis a vis compensation offered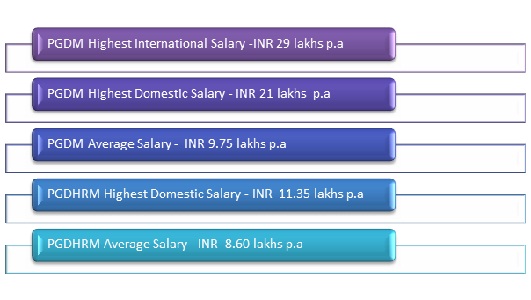 Recruiters at a Glance

New Recruitors
A T Kearney Ltd.- ADM Agro Industries India Pvt. Ltd.- Asian Paints Ltd.- Aviva India - Axis Bank Ltd. - Axis Risk Consultancy - Balmer Lawrie & Co. Ltd .- Barclays Shared Services Pvt. Ltd - Bharti Reality Holdings Ltd. Bloomberg - Capgemini (India) Pvt. Ltd. - Central Bank of India - Citicorp Finance India Ltd. - Deloitte Consulting India Private Limited -Ernst & Young GSS - EXL Service - Fresenius Kabi Oncology Ltd. -HDFC Bank Ltd. - Hero MotoCrop Ltd. HSBC Bank - ICICI Bank Ltd. - IDBI Bank - IMRB International - Indian Oil Ltd. - Infosys BPO Ltd. - Infosys Technologies Ltd. - Irevna (a division of CRISIL) - ITC Hotels Ltd. - J.P. Morgan Services India Pvt. Ltd. - Jumbo Electronics (Dubai) KRIBHCO - Make My Trip India Pvt. Ltd - Maruti Suzuki India Ltd. M.B. Informatics - Michael Page International - Noam Management Consulting Pvt. Ltd. - Policy Bazar.com - Ranbaxy Laboratories Ltd. Resultrix - RPG SG - RPG Enterprises - Ruchi Soya Industries Ltd. - United Spirits Ltd. - Wipro BPO Ltd.
Concluded.
.