Institute of Management, Nirma University Final Placements 2012: Average Salary Rs.8 lac, IT Comapnies made maximum offers
| July 25,2012 10:18 am IST
Amidst of myriad of academic and extramural activities, Placements is one of the important events at IMNU, which drives ones adrenalin high. Thrill among the students can be seen at the campus.

The week, starting November saw a virtual storm at the Institute of Management, Nirma University with a plethora of companies vying for the 181 students of the batch 2010-12. It was truly an emotionally charged atmosphere with all the highs and lows.

There was a mix of industries, heavy weight from the fields of Pharmaceutical, IT, Banking, Financial, Automobile, Energy, Manufacturing, Insurance, Micro Finance, Retail, BPO / KPO, Marketing, Marketing Research, Medical services and Tours & Travels participated in the campus placement process. The highlights included that some recruiting firms were offering profiles to work at US and Africa.

The highest domestic package, a whopping 10.00 lac / annum was offered by Pharmaceutical giant. The average package jumped to more than 8.00 lac / annum.

The laterals of the batch also performed well with their average package being more than 8.50 lac / annum.
Final Placement Profile
Batch Strength - 181
Number of Companies participated - 45
Highest Salary - INR 10.00 lac
Average Salary- INR 8.00 lac
% rise in Average - Salary 10.00%
Average Salary (Laterals) - INR 8.50 lac
Median Salary - INR 7.00 lac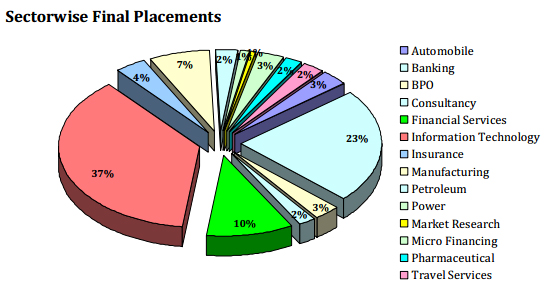 Recruiters included leading and finance majors like CRISIL and CARE & Consulting firms like IBM, Infosys, Mu Sigma, and HCL Info Systems made their presence felt in this years placement process.
Regular recruiters like Ranbaxy, Infosys, CARE, CRISIL, FINO, Usha International, The Nielsen Company, Omnitech Infosolutions, Bajaj Finance, ICICI Bank, HDFC Ltd., HDFC Standard Life Insurance, HDFC Bank, IDBI Bank, TCS BPO, UCO Bank, Aranca, Adani Enterprise, and IBM India also recruited again this year. This truly reflects the faith and confidence they have in our systems, placement policies and students.

The jobs offered were in the area of financial analytics, equity research, project management, core banking services, wealth management, micro finance, marketing research, insurance, supply chain, consulting, branding and communication, operations, etc.

The participating organizations also include many first time recruiters like Balmer Lawrie & Co. Ltd., Mahindra & Mahindra, Mu Sigma, Xylem, GSFC, GSPL, Tata Motors, Meru Cabs, and Sai Info system (India) in addition to the regular recruiters at IMNU. Omnitech Infosolutions also offered pre placement offer.The B-School hiring process ended with a surge in highest and average salaries, best of job profiles and appropriate lateral offers.
Concluded.
.